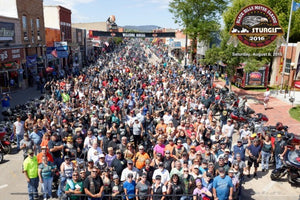 Your First Bike Rally – Tips and Advice
You've made up your mind. You've given your bike a fresh new look with professional motorcycle paint and are ready to go to your first bike rally. But, what can you expect when you get there? What can you do to prepare for such an adventure?
Well, this article will help you prepare for your first motorbike rally, giving you some top tips to enjoy the experience to the maximum. If you are still on the fence about which event to go to, as hundreds happen throughout the year worldwide, why not check out our article on what rallies to check out before you kick the bucket?
Let's begin!
Do Your Research
Finding out what event to attend is the first step to going to your first rally. What are you looking to experience during the rally? Do you enjoy live music, cold beer and plenty of chrome? Then why not check out the Daytona Beach Bike Week, or the Laconia Motorcycle Week. Maybe you are looking for rallies more geared towards travelling with inspiration, top tips and advice and tales of those who have gone before you. Then we recommend you check out Overland Expo, Horizons Unlimited, and the Dirt Daze. Regardless of where you decide to go, be sure to gather up as much information as you can. Make sure to read programs, rides check out what vendors will be there. You can ask riders who have experience in attending rallies, maybe some have already been to the ones you are interested in. Forums are a great place to find out this kind of information. Do the best you can to get a feeling for the event, checkout what kind of crowd gathers there and whether what is on offer suits your wants and needs.
Prep for the Event
If you have done your research, preparing for the event becomes much easier. Questions such as accommodation can be answered by checking out local hotels or if the event offers camping spots. You can check out what experiences are available and perhaps take part in a two-wheeled treasure hunt or a slow race, some even offer rider training. You can work out parking situations. All of this is information you can find out in advance and prepare for accordingly. We recommend servicing your bike before you, booking a hotel or making sure your camping equipment is up to scratch and ready to go, check if you need any extra on your insurance policy for this kind of event, etc. Plus, booking early can often guarantee you a cheaper price as local establishments will increase the price closer to the date.
Another big thing to do in order to prepare for a rally is to buy food and drink before attending. With some of these events happening in the blistering eat of summer, dehydration can become a serious problem, and vendors know it. Some will try to overcharge you for a bottle of water or a can of soda. So, be prepared. Bring your own water and stay hydrated throughout the day without spending a fortune.
Buddy Up
While motorbike rallies are a great place to meet like minded people who share the same passion, riding in alone can sometimes be a daunting experience. Why not bring a friend, partner or meet someone online before riding into the event? This can enhance the experience. However, this is more of a recommendation than anything else. You can, of course, fly solo and will meet some amazing people with a similar mindset to yours, but why not share such an awesome experience with someone you already know?
Bring Cash, But Don't Splurge
ATM's do exist at these kinds of events, but they come with one slight inconvenience: they charge more than your usual bank to withdraw money. The best advice, bring cash. Another solid piece of advice is to hold on to your cash until the final day. Many vendors will be looking to get rid of stock before packing up and will be willing to sell items at a cheaper price and you can bag yourself a better deal.
If you plan on spending your cash on cold beer and having a good time, then that is perfectly fine too! But please, and we cannot stress this enough, please do not drink and ride.
Be Inspired
There is a huge amount of fun to be had at motorcycle rallies, there is no question about that. But they are also a huge source for information. You can attend pep talks, get travelling and riding tips, network with people, and most importantly, be inspired. Inspiration can come from key speakers (make sure to book to see them) on a variety of subjects from travelling to bike customizing. You may also be inspired by someone's ride to modify yours or to pick up a project bike to convert into any style you want, be it a café or a bobber. Inspiration is everywhere at these events.
Take Photos
This could be a once in a lifetime experience, so it makes sense you want to treasure the memories. Take your camera or your smartphone and constantly have it in your hand ready to snap the next shot. You will regret it if you don't.
Make sure you have plenty of memory too. Either take new memory cards for your camera or create storage on your phone. Taking photos is a great way to keep the memory and make great souvenirs of life-changing experiences.
Enjoy Yourself
It doesn't matter where you go or why you attend an event, the important thing is that you have a good time. You will meet new people, learn new things and maybe even test yourself on some of the activities an event has to offer. Savor every second of it and come back next year!
---