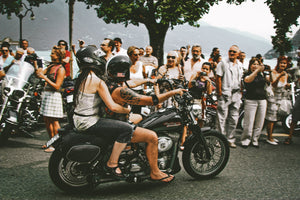 The Top 5 Motorcycle Rallies To Go To Before You Kick the Bucket
We know that the motivation behind wanting to buy the perfect paint to restore your classic motorcycle comes from wanting to get that vintage bike perfect. Most of our customers are more than just "motorcycle enthusiasts", riding is part of who they are and their bike is something that they see as an extension of that. 
This special breed of rider is the driving force behind the meetup events that take place year-round all over the US and the world - proud bike owners that want to run with their tribe and spend time with other members of what feels like one big family.
We wanted to give our readers a list of the Top 5 Rallies around the US to give you some ideas of the awesome events you can go to each year to connect with other riders and enjoy the experience of owning and riding your motorcycle even more.
Daytona Bike Week is a week long event in March that includes more than 10 different bike shows, including the world-renowned "Rat's Hole" custom bike show that shows off some of the best custom builds on planet Earth. There are also 5 totally different styles of races, including supercross, drag racing, and vintage races to name a few. Even if you don't have a bike, the events are worth the trip. "Main Street" is an absolute must see - it's been going since the 1930's and now attracts about half a million bikers a year. Daytona Bike Week attracts hundreds of thousands of bike enthusiasts from around the country and world every year, and is a must for anyone that loves a good rallie (and Jello shots…). You can catch Daytona Bike Week every year March 8–17 in Daytona Beach, Florida.
Myrtle Beach Bike Week is a more laid back rally with a bigger focus on great music as well as a great rallie. This rallie brings in mostly Harley-Davidson riders, and features drag racing, tons of live music events, and some of the best biker bars you will find anywhere.  You won't want to miss the custom bike shows either, and there are several throughout the week. One of the great things about this rally is the amazing rides that are right there as well. Touring the coastline is definitely one of the most rewarding parts of attending Myrtle Beach Bike Week, and should not be missed! You can catch Myrtle Beach Bike Week May 10-19 every year in Myrtle Beach, South Carolina.
3 - ROT (Republic of Texas) Biker Rally 
The ROT Biker Rally is a killer event. It may not have the notoriety of some of the other events on the list, but with more than 200,000 riders attending each year, it is no small rally! One thing that a lot of riders enjoy about this event is the "adults only" policy, giving bikers a chance to really enjoy themselves. THis rally is definitely more "private" with actual turnstyles there to keep kids out, but still totally a blast to attend. Other really awesome aspects of the event include the Austine Bike Parade - which shuts down over 50 city blocks and ends in front of the Texas State Capitol building - and the killer atmosphere you get from being a biker amongst bikers! The ROT Biker Rally is June 13–16 in  Austin, Texas, and should be on your bucket list!
Laconia Motorcycle Week is the oldest bike rally in the united states at over 95 years running, and is definitely one of the most enjoyable to attend. Laconia Motorcycle Week is packed with tons of races - one of which dates all the way back to the original event, the first year of the rally and is said to be the longest running race in the US. Laconia Motorcycle Week is a much more "family friendly" event, and is pretty laid back. Lots of fun events and opportunities to just take in the scenery and people make Laconia Motorcycle Week a great rally to attend. You can catch Laconia Motorcycle Week June 8–16 each year in Laconia New Hampshire.
Ok, we get it - this is an easy one and almost cliche. The thing is, Sturgis is just a MONSTER rally. Not only does Sturgis feature a ton of events and bring in over 500,000 bikers a year, but it is set in some of the best roads to ride in the country. A truly world-class place to ride, with a world-class rally set right in the middle of it. Traffic can definitely get crazy, but this small town becomes motorcycle heaven for one week every year. There is a huge list of races and events - so many that you just won't be able to catch them all. Hill climbs, bike shows, art exhibits, and live music make it the event of the year for just about every biker - not just Harley riders. Sturgis is truly a once-in-a-lifetime experience, and one that any biker will be glad to have made part of their life. You can catch Sturgis August 2–11 in Sturgis, South Dakota.
There you have it my friend, our top 5 motorcycle Rallies in the USA. Each has its own special flavor, and every single one is worth attending at least once. If you are proud of your vintage bike, these rallies can be the best place to show off the killer motorcycle paint jobs that are part of any good restoration paint project!
Cheers, and see you at the rally!
---