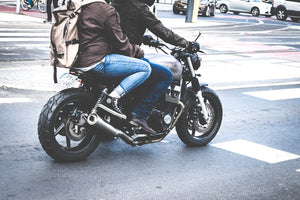 Know Your Motorcycle: The Difference Between a Scrambler, a Cafe Racer and more
Scrambler or Café Racer: What's the Difference?
Whether you are looking to buy a new bike or find a project to customise to your own style, retro looks are now very much in fashion. But finding the right style for you can be tricky. With a long list of styles to choose from, including café racer, bobbers, tracker and scrambler, it is hard to know the difference between them.
For example, you can style your bike with an American Bobber styling, or a European Bobber. The difference? Essentially, the American style tends to be bulkier with a lower seat. However, that is just two different varieties of the same style - how can you tell the difference between a café racer and a brat? This is what this article is here to help you with.

Café Racer

We'll kick things off with the most iconic of the styles. The name originated during the 1960's in the United Kingdom, where Rockers would park their modified bikes outside of cafes and bars. They would illegally race their bikes in time trials and different races too, which earned them the nickname of café racers.
They are powerful bikes stripped down of any extra weight with a modified riding position. They have clip-on low-slung handlebars, shortened seats (for one person only) and the foot pegs moved back for a riding position similar to race bikes. They can have a rear with a simple raised seat or a cowl, normally with the lights incorporated to save space and weight. Some may have small fairing around the headlight and the bars, but the riding position is still one made for speed and handling.

Bobber

Bobbers originate from 1930's America, where riders would ride their bikes to a hill climb or a race, race, and then ride home. They are usual based off American bikes, such as Harley-Davidson and Indian, (but as mentioned in the intro, that is changing now as Japanese and European brands make similar styled bikes). Like the café racers, these too were stripped down versions of the original bikes. Front fenders were removed, seat posts cut down to give the rider a lower centre of gravity, and the rear fender was bobbed (giving the bike its name) or shortened. This showed off the bobbers chunky tires and gave it an aggressive look.
The style of handlebars is commonly drag race style bars, and some may have a sprung seat. The sprung seat is mostly used on older motorcycles, as using one on a modern suspension system is rather pointless and doesn't have a great look either.

Scrambler

Probably the most comfortable ride out of all the bikes listed here. A scrambler has an off-road look and is designed to be able to tackle dirt roads with ease. As long as they are not too extreme. They can also be used on tarmacked roads without a problem. Some legends say they were designed to navigate the dirt back roads that interlinked roads and highways.
They are traditionally customised from British or European bikes; however, we are seeing more and more Japanese brands being converted into scramblers. They have raised suspensions, for a higher ground clearance, knobbly tires for extra grip off-road but that are still road legal, while also having the majority of excess bodywork and weight removed. They have long, flat seats, giving the rider easy movement to adapt to different terrain. The style will also have a high exhaust to avoid potential damage, but this isn't always the case.

Tracker

Now, imagine if a scrambler and a café racer had a child. That child would be a tracker. Like the scramblers, they are designed to go on dirt roads, but, like the café racer, they are designed to go on those flat dirt roads at incredibly high speeds. The tracker still has the no-nonsense stripped-down look of the other two.
Trackers have knobbly tyres and slightly raised suspensions, but far less aggressive than a scrambler. They also tend to have a single seat with a cowl at the back, to give it a race look and riding position. The handlebars are in between the upright riding position of a scrambler and the low-down position of a café racer too.

Brat

A brat style bike is difficult to distinguish from a traditional café racer style bike, because they look very similar. But there are differences.
They were born in Japan and are shorter, more aggressive and use a flat seat (without the rear hump or cowl of a café racer). They also have a higher riding position, thanks to using handlebars more suited to a tracker or a bobber. You can consider the brat style, named after the Tokyo shop who started making them, as the Japanese entry into the café racer world.

Choosing Your Style

Choosing which style to go for is like buying a car. Or a shirt. You need to consider how often you are going to use your bike and what you are going to use it for. If you live out in the country, then a scrambler would be the ideal case for you. If you just like riding along country roads on a nice summer's day, then a café racer. Or take on your day-to-day with style on a tracker.
Whether you are thinking of starting your own project or looking to buy new modern bikes with retro styling, make sure to explore the market. There are plenty of Honda and Yamaha bikes with are ideal for customising into any style. Use high quality vintage motorcycle paint to give your bike an extra personal touch, even if you are buying a modern classic.
We are sure we have left some styles out of this list, but these are the most common projects people enjoy building. If you have a different opinion, or agree with this list, leave a comment and let us know.
Stay safe and have fun riding, no matter what you ride!
---