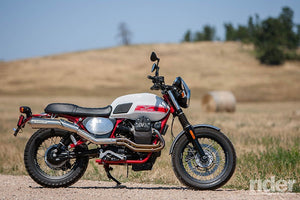 The Best Off-The-Shelf Scramblers for 2020
Just like the café racer scene, the modern vintage motorcycles also apply to scramblers. While there is no better feeling than completing a project yourself, manufactures are taking notice of the huge market that exists for one off customs. What are they doing? They are making production bikes in the same style as these customs. Meaning you can buy a retro looking bike straight out of the dealer.
These modern day scramblers are not the same as you can build in your garage with some tools and professional motorcycle paint, but they promise to deliver the same look and feel, with the addition of modern perks.
Bullit Hero GULF Edition
The Bullit Hero is an affordable and beautiful bike. Bullit is a British manufacture, however, all its bikes are sourced from China, after which they do some modifications and rebadge them. This allows them to sell the machines at very affordable prices. Made with a tubular steel chassis encasing a fuel-injected, single-cylinder, air-cooled engine with the added protection of a skid plate. This coupled with some serious scrambler modifications means the bike has extreme potential when you run out of road. The Gulf edition is a limited edition with only 250 units produced, so getting your hands on one is finding a real gem.
Yamaha SCR950
The SCR950 can be traced back to a custom bike under the banner "Doc's Chops" who had Greg Hageman at the helm. He was asked by Yamaha's YardBuilt Program to customize a Bolt. And he did so in such a fashion that the company made some minor modifications and put the bike into production. It was a surprise to see one of the Japanese Big Four produce such a machine, powered by a V-Twin. It combines elements from cruiser and scrambler aesthetics and feel but was best suited to road use. It is a heavy bike at 550lb, has a low hanging exhaust and not much ground clearance.
Fantic Caballero 500 Rally
Being one of the lesser known brands in the scrambler market, the 500 Rally has a lot of potential. Not only does it have very good looks, blending retro and modern into one design, it comes with tons of top-quality components. These include Tommaselli, Domino, Brembo (technically ByBre), and Arrow — the latter of which is accountable for the 500's impressive dual-silencer setup. All these components are designed around a CrMO Steel tube frame, with FRS 41mm inverted forks and a mono-shock at the rear and both are fully adjustable. They offer reduced travel and make for an extremely comfortable ride. The Rally also delivers enough power to compete with modern day motocross bikes, making it one of the most capable scramblers when the going gets tough.
Moto Guzzi V7 Stornello Scrambler
The Italian firm had been offering scrambler kits and accessories to V7 owners for a few years prior, but it was not util 2014 that they released this beautiful machine. It is a more street-oriented ride combined with off-road designs, but that does not stop the Stornerllo from hitting the trails. And taking them in its stride. The visuals were inspired by the Stornello 125cc Moto Guzzi produced during the 60's and 70's. The new version comes with a variety of unique features that only Moto Guzzi can pull off, such as electro-welded upholstery and a unique Arrow high-mounted exhaust system. To round things off, you can find old-school style fenders, side number plate, knee pads, a flyscreen, fork boots and spoked rims wrapped in dual-sport tyres.
Scrambler Ducati Desert Sled
Ducati isn't new to the scrambler world, as their original line-up dates back to models produced in the 60's under the Scrambler name. The ranged from 125-450cc and had one cylinder. So, in order to compete in the growing retro-modern market, the heads in Bologna decided to revive the Scrambler name and modernize their machines. Ducati enthusiasts can now find a huge range of Scrambler Ducati, from track-inspired models to a café racer to the classic models. However, the most honest scrambler in the line-up has to be the Desert Sled. It has all the modifications of a true scrambler, extra suspension travel, skid plate, MX bars, headlight guard, spoked rims fitted with knobbly tyres make it a full package. It is also one of the few modern scramblers able to perform competitively off-road, without sacrificing the style you come to expect from Ducati.
BMW R NineT Urban GS
The Urban GS is an R80/GS themed R9T, which is a stunning looking café racer. It pays homage to the Dakar-winning bike from BMW, like the red seat, white and blue paint work and headlight shroud. Because of the bike it is based off, this is a road ride with a vintage off-road dress on. There is also a R9T Scrambler, but the Urban GS, especially with spoked wheels, is better suited at tackling the duties that are expected from a scrambler. What's more, this bike is very susceptible to further customization thanks to intelligent engineering and versatility of the R9T platform.
Triumph Scrambler 1200XE
It can easily be argued that Triumph is largely to blame for the raise in both the scrambler and café racer scene, as it rolled out its first model in 2006. The company had been offering scrambler models, but they were just Bonneville rides dressed in off-road kit, such as high pipes and knobbly tyres. Triumph set to change this with the 1200XE. They pulled out all the stops and engineered a completely new model. It doesn't just look the part; it performs outstandingly in the dirt too. With the Triumph 1200 XC and XE, the British manufactures absolutely nailed it. They were able to produce a bike that earns the title of a true scrambler. It looks the part, evoking the spirit of McQueen-era British scramblers onto the onlookers and performing with the best of them off the tarmac.
This is out list of the best scramblers you can walk into a dealer and buy today. It isn't a complete list, as there are other outstanding machines out there, and we are sorry to have missed them out. Stay Safe!
---