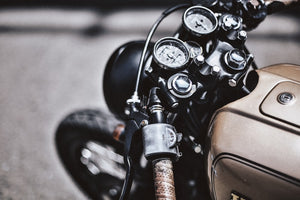 Top Off-The-Shelf Modern Day Café Racers
There is no better feeling than completing a café racer project. To have worked through all the stages, complications and assembly of a bike, to have given it your own style with professional motorcycle paint and to call it your own is one of the best things about owning a café racer. If you ask some purists, they will even say there is no other way to owning a racer except building one yourself. However, brands such as Honda, Ducati and BMW are trying to prove otherwise with amazing off-the-shelf modern day bikes with a classic look and feel. 
The café racer trend is clearly here to stay, but not all of us have the time to buy a second hand classic and convert it, so this list looks at the top bikes that are ready to buy with the look you are after.
Honda CB1000R Neo Sports Café
Honda has their claim here to the best Neo Sports Café Racer on the market, and that is largely due to no other manufacturer naming their bikes in such a way. However, this long anticipated bike from Honda is not to be joked about. The CB1000R has the same 998cc engine which powers the Fireblade, so it is no slouch, kicking out a nice 143bhp and a redline at 11,500rpm. While the styling slightly misses the mark in terms of traditional café racers, you can see what Honda was trying to achieve. On the other hand, in terms of a machine, it is outstanding, as usual from the Japanese manufacturer.
Royal Enfield Continental GT 650
The 650 twins of the Continental line are the first twins to come out of Royal Enfield since the 1970's, and while the engine itself may not seem all too exciting to many, the history of the bike certainly makes it worthwhile. Producing a humble 47bhp, the Continental GT is no rocket, but it has a classic look, heritage and will tick all the café racer boxes you need. While there is a price tag of around $7k, the bike is worth every penny.
Moto Guzzi V7 III Racer
If you love Italian bikes with loads of heritage, this bike is for you. The name V7 first appeared in 1967 and was released in 2007. This version, the third instalment is a classic, as it ticks the boxes of rarity, only 1,000 examples where produced and style, as the bike is incredibly beautiful. One aspect the bike may lack is in performance, as Moto Guzzi themselves claim to have given the Racer the best parts. This means the bike produces a modest 52bhp, which considering its weight it is not sufficient to make it as sporty as other bikes of the same calibre. 
Norton Commando 961 Café Racer
No list of café racers, new or old, can be complete without mentioning the British giants, Norton. Since the 1960's they have produced quality café racers, and the Commando 961 is no exception. And the company is not without its fair share of ups and downs, at one point even shutting shop completely. But with over 100 years' experience under their belt, it is clear they know what they are doing. 
This current Commando has been in production since 2009, and some have confused it with a Triumph Thruxton in the past. But make no mistake, this is a pure Norton motorcycle. The engine produces a nice 78bhp combined with high-performance parts. While the price tag may be a little steep, you are paying for heritage, style and performance. 
BMW R Nine T Racer
The Racer has not always been praised, as BMW downgraded the performance from a normal R Nine T, and nobody knows why. But the performance dip would be hardly noticeable to new riders or riders who haven't ridden both bikes and it also means the Racer is cheaper. Reviewers have also said the riding position is uncomfortable on long journeys. Realistically though, no café racer is ever extremely comfortable, nor will you go on a long journey riding one. 
So, why mention the BMW on the list? Three very good reasons: 
It is beautiful.

The BMW boxer engine is tried and tested and has shown time and time again to be incredibly reliable.

The BMW badge guarantees expert quality and reliability, as long as help with any issues that may occur, but they won't.
Kawasaki Z900RS Café
The Café version was released shortly after the anticipated arrival of the Z900RS and there is very little difference between the models, apart from the styling aspect of the two bikes. Both engines produce 110bhp, and are 948cc in-line fours, and both have high-performance parts all around. It is the styling that really makes the two bikes stand apart, from the retro fairing to the classic Kawasaki green professional motorcycle paint. While the styling may be more of an homage to 80's racing legend, Eddie Lawson, it doesn't stop the bike from being a great all rounder and a top choice for many riders.
Triumph Thruxton R
For many, the Thruxton R is the pinnacle of modern-day café racers. It combines old school styling, something Triumph knows very well, as they were there to be one of the first café racers available, and performance in a perfect balance. The Thruxton R outshines other café racers because it is more than some simple styling and performance upgrades or choosing one over the other. It is a whole package, and every rider loves that. While it isn't cheap, the 96bhp machine is worth every last cent.
This is not a complete list of all available modern café racers, but this is the list we feel are the top bikes you can go and buy today. They don't need any changes or modifications, although there is nothing stopping you from adding your own styling to make your machine personal. Are there any bikes we missed? Any you think deserve a spot on the list? Let us know!
---