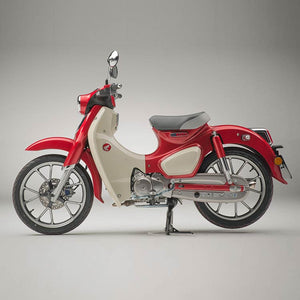 What to Expect From the Motorcycle World in 2021
With 2020 going to down in history as the year we were hit by a pandemic, it is giving us more and more reasons to look forward to 2021.
There are new bikes coming out from our favorite manufactures such as Honda, Yamaha and Harley Davidson, with the latter probably being having the most surprises for the year. Harley are addressing an audience of new riders and are testing their hand at electric concepts, sport bikes and tourers, all with surprising and mixed reviews.
Don't worry if you can't afford a new bike, you can always make yours look brand new with a fresh coat of professional motorcycle paint!
Here is what you can expect from the motorbike world in 2021.
Yamaha Ténéré 700
It should come as no surprise that Yamaha is developing one of the most exciting concept bikes for 2021. The new Yamaha T7 or Ténéré 700 was first shown at the 2018 Milan EICMA show and was expected to be available late this year as a 2021 model. The concept was first designed and revealed in 2016.
The T7 is a mid-displacement bike inspired by rallies and adventure. It claims to be capable of tackling the desert dunes with easy and be a comfortable companion on long-distance travels.
Unfortunately, the USA might have to wait a little longer for the bike, as it might be a whole year after its worldwide release that the bike reaches the States. In a poll conducted by ADVMoto, the T7 turned out to have more of the people's interest than KTM's 790 Adventure R.
Harley-Davidson Future Custom
As we have talked about in previous articles, café racers are reemerging and becoming popular again, with the likes of Ducati and other manufacturers revealing their own attempts at stripped-down minimalist bikes with modern day technology. Harley Davidson may be a little late to the party, but there is still plenty to be excited about.
The Future Custom is a breath-taking muscular and aggressive bike with excellent styling and can be expected to be found in dealers in 2021. It comes with a 1250cc engine with plenty of power and torque. It is promised to be a performance machine for the café racer enthusiast and a step towards modernity for the most famous motorbike manufacturer in the world.
Harley-Davidson Pan America
Harley-Davidson are taking a whole new approach with their bikes next year, and the Pan America is clear example of that. The first adventure tourer the manufacturer has ever put into production is expected to be well received despite the brands lack of experience in the adventure tourer market. The Pan America comes with a 1250cc engine, which is a recurring theme for new 2021 Hogs. It offers a comfortable riding position either on or off-road, as it expected to take you from coast to coast.  To date there are only prototypes, but they are very exciting.
Harley-Davidson Future Streetfighter
The Future Streetfighter is aggressively named and has the looks to back it up. It is intended to expand the manufacturer's extensive middleweight production line.
It is claimed to boast an "unapologetic modern style with enough performance and agility to carve through city streets." The future (pun intended) is looking bright for the American motorcycle giants.
Honda CB125M SuperMoto And CB125X Adventure Concept
While scheduled to be released in 2020, we might see Honda releasing two models of the CB125 a little later. There is the -M SuperMoto model and the -X Adventure Concept. Their first made an appearance in the 2018 EICMA. The CB125M is a street-focused naked with a slight super-motored hint in its design. The lines are futuristic and minimalist with an ultra-sharp seat that runs seamlessly into the tail and also features an LED headlight. The CB125X comes in all white and is an adventure inspired model with a solid design and chiseled lines.
MV Agusta Superveloce 800
The MV Agusta Superveloce 800 is a concept bike with GT origins and inspiration. First introduced in the 2018 EICMA, the bike is an eye-catcher. The bike is an F3 with inspiration drawn from 1970 GP racing bikes. MV started with an F3 800 chassis, engine and brakes, they then completely changed the styling and remapped the engine to increase the midrange. This gives the SuperVeloce more top-end potential claim the Italian manufacturers.
MV worked closely with SC Projects to create an asymmetrical 3-into-1-into-3 exhaust, a homage to  MV's racers from history. The bike has a whole new fairing package built out of carbon fiber, with two LED circular lights in both the front and read. The dash is a full-color TFT model. While the bike is schedules to be release in 2020, we are looking forward to it!
Honorable Mentions
As you might imagine, it is impossible to mention all in one list. The aforementioned are the models we here at VMR Paints are most looking forward to, but here are some other worthy mentions coming in 2021.
Honda
– 2021 Honda CBR1000RR-R Fireblade SP – The Fire Blade has always been an anticipated release. And this track focused machine is no different.
– 2021 Honda CB300R ABS – The perfect Honda starter bike is making a return! It has it all, with Light weight, plenty of power and precise handling.
– 2021 Honda Super Cub C125 – The Super Cub is a classic machine, giving the world an accessible and great motorbike.
– 2021 Honda ADV150 – A new concept; a City Adventure Cross-Over. The result of combining an Africa Twin with a PCX150!
 Harley-Davidson
– 2021 Harley-Davidson Bronx 975 – Perhaps the most anticipated Harley of the all expected to be released in the coming year. It is a middleweight streetfighter model with an unapologetic attitude and performance to match. Also available with 1250cc (told you it was a recurring theme).
 Yamaha
– 2020 Yamaha TY-E Electric Trials Bike –  This is a bike with strong visions into the future while keeping its soul firmly in the past. The perfect bike to ride on Earth Day 2020 and every year after that.
---