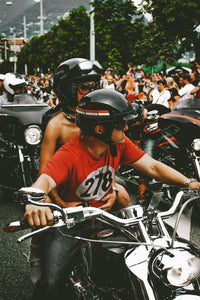 Packing for a Motorcycle Tour: The Essentials
In a previous post looked at some of the best rallys for motorcyclists in the world, and we hope you have added one or more of those destinations to your bucket list. Once you have painted that vintage bike, you will want to take it on the road. When it comes to traveling on a motorcycle, packing is one of the most important skills you can have.
Touring on a motorcycle  isn't the same as going on a road trip in a car or an RV - you have limited space, so you need to know what is essential to pack for a successful trip. You can learn from trial and error what the essentials are for your perfect road trip, especially when it comes to spares for your own motorcycle, but having a good idea of what to take initially is always a great place to start.
This is a list of what we consider essentials to pack before you go on any long road trip, remembering that saving space is essential.

For You:

Documents
The last thing you want is your trip ruined because you don't have the right documents when asked for them. This means passport, insurance for the bike, travel insurance, European health card for travellers in Europe, your driving license, and other important pieces of paper you need, say for example, the boarding pass for a ferry crossing.
Water
Buy a camel back so you can drink while riding or have plenty of water on board and stop regularly. Riding and having fun is thirsty work!
Riding Gear
When riding long journeys, always stay safe and stay prepared. Make sure you take all the right clothing - a good jacket and trousers go a long way. Take spare gloves too. If your jacket and trousers aren't waterproof, then pack a waterproof overall. Ensure your boots are in decent condition. Most importantly: Your helmet. Some people pack clear and tinted visors, but a pair of sunglasses, or a good quality helmet with a drop-down sunscreen do the job and take up less space. Also, don't forget a fluorescent yellow high-viz jacket, to be worn when visibility is bad or in case of an emergency or breakdown on the side of the road.
Clothing
When it comes to day to day clothing, you don't need a lot. We recommend you pack socks and underwear for 5 to 7 days, even if you are going for longer (you can wash them in your accommodation). The same goes for t-shirts, both short and long sleeve. One good jumper or jacket that doesn't take up much room too. If you own riding jeans, then there is no need to pack extra jeans, but I recommend packing a pair of jeans and a pair of comfortable trousers, such as sweatpants. Besides your riding boots, you only need one pair of shoes.
Those are the essentials of clothing, obviously take into considerations where you are going. If you are travelling cold, wet or even snowy areas, pack accordingly, even if it does take up some more space. In contrast, if you are going somewhere sunny and warm, be sure to back your swimwear and summer footwear.
Toiletries
Packing the basics like you would for any trip is pretty much all you need to worry about. Travel sizes are great and take up less of your precious space. Obviously if you are on medication, use contact lenses, etc, pack them too. Most places you visit will have shops where you can buy more toiletries if you need them. They type of accommodation you are choosing will influence how much shampoo you might consider taking with you.
Electronics
Modern smartphones are not only a way of staying in touch with people, they have so much more, so it is paramount to have yours. But be sure to have means of charging it up. Whether it be a USB plug on your bike or a power-bank. Other electronics you might want are a Go-Pro (especially with helmet attachments), a camera (but no need to bring all its accessories), and a Sat-Nav. Having a reliable navigational system you can easily see and use while on the bike is a great advantage and remember to make sure it as up-to-date maps of where you are travelling, as roads do change.
Road Maps
Staying on the subject of roads, a road map is very handy. It is easier to find and choose a route on a map than it is zooming in and out of your phone screen or the Sat-Nav, so pack one that is up to date.

For the Bike

Spares
If you are familiar with your bike you will have a rough idea of what could potentially fail on your trip. It is impossible to pack a spare of everything but having a set of brake pads and spare bulbs (a legal requirement in some countries in Europe) can come in handy.
Tools
I am lucky enough that my bike comes with a small bag of tools under the seat, which is very helpful. Having a small toolkit with the essentials is a must have on any bike trip, as you can never know what can go wrong. On top of that, we recommend you take a puncture repair kit, gaffer or duct tape, superglue and lubricant spray, such as WD-40. Part of the benefit of experience is that you end up needing the small things you don't expect, and plan for them next time.
Straps and Bags
Pack dry-bags, zip lock bags, carrier bags and bin liners. When travelling, we found they all came in handy. Also, make sure to back extra bungee straps and tie-downs to secure new purchases on your bike and to secure your bike when you least expect it.

Ready to Rock and Roll

With all your essentials packed, you are ready to show off your Vintage Yamaha, Honda or Harley Davidson motorcycle to the world. Remember to service your bike before any long ride, and maybe give it a fresh new coat of paint with some professional motorcycle paint. You want your prize possession to be reliable and suitable for the long ride ahead, but also looking her best.

Have fun, stay safe and let us know if there is anything you think is ESSENTIAL to pack on a long motorcycle trip.
---