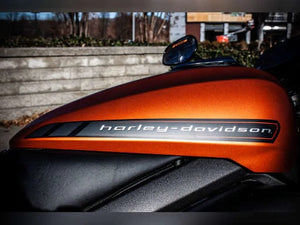 Harley Davidson LiveWire and the Future of Electric Motorcycles
The release of Harley Davidson's LiveWire was a risk for the motorbike giants. And it hasn't quite paid off yet. Maybe it never will, but what does a company such as Harley releasing an electric motorbike mean for the rest of the industry. There are some very competitive brands who specialize in electric rides, but it begs the question, will other big brands follow the path of the Americans?
This article will look at the future of electric motorbikes and a take a brief look at the LiveWire. The future might be electric, but if you want to give your ride a new futuristic look, try some professional motorcycle paint to modernize your hog.
Harley Davidson LiveWire
With traditionally Harley owners getting older, the Milwaukee based manufacturers are turning their eyes onto a younger generation of riders. They have several new lines coming out these following months, including an aggressive naked bike The Future Custom or the two versions of the Bronx and its first adventure tourer, the Pan America. The LiveWire was a part of that new line of bikes which would attract the younger generation. It is electric, therefore pleases a more environmentally conscious generation, and looks outstanding in true Harley fashion.
On paper, the LiveWire sounds exciting. A 0-60 speed of just 3 seconds flat puts it in superbike and supercar territory. It has two easy charging modes, for at home and on the go, and full connectivity with your phone, using Bluetooth to connect with your phone for navigation. It has four different riding settings (sports, road, range and rain) which each set the bike up with different throttle response, power output and traction control, plus there are three custom settings for you to make your own.
This bike is a big step in the right direction for Harley if they are looking to attract a younger generation of riders. However, the close to $30,000 price tag and the limited range (97 city miles and 95 combining stop and go with highway riding) are two of the main setbacks of this bike. Especially when you consider that a Tesla Model 3, which offers you an acclaimed 250-mile range, is only a few thousand more. The rumor has it that this bike is the reason the CEO Matthew Levatich stepped down after 26 years of service.
Harley Davidson's current lack of success in the electric motorbike market is not completely their own doing. The fact is, there is strong competition out there, from brands who specialize in these kinds of bikes. They can offer better ranges and better prices.
The Future of Electric Motorcycles
As I mentioned earlier, it is through no fault of their own that Harley failed to sell the LiveWire (despite its limited range and hefty price tag), it is because of the competition that exists on the market. There are some excellent electric bike manufacturers, so let's take a look at some of them and what they have to offer.
Lightning
Lightning have been making electric bikes since 2009 and are soon to release a carbon fiber edition of the Striker. They claim the bike is good for 152-mile range and speeds of up 150 mph. The motor is also capable of pumping out 120 horsepower. Furthermore, it comes with a price tag of just below $20,000.
And if you are looking for something even faster, Lightning have the LS-218, the self-declared fastest production bike on the market. And with a top speed of 218 mph, we are not about to argue with that statement. There are three different battery packs on offer and a max range of 180 miles, but this bike isn't built for long rides, it is built for speed. However, speed comes at a cost of $38,888 for the base model.
Zero Motorcycles
Zero have a well-rounded variety in their line-up, but it is the Zero S and SR that are getting the attention. Two versions of a naked style bike capable of a combined 60- and 120-mile ranges, respectively. You can buy an upgrade for the SR that will give you 150 miles combined and 225 in the city. Plus, the SR has the more powerful engine, with 70 horsepower and 116 pound-feet of torque. What really make these bikes appealing to the public are their price ranges at $10,995 for the S and $15,495 for the SR version.
Zero also offer you two of the most wallet-friendly electric bikes available, the FX and FXS. Both are Supermoto style bikes with the FX having the more off-road design and both will cost you $8,995 without any extras.
Cake
Don't be fooled by the name, this brand has no relation to food. It does have a relation to IKEA though. It was founded in Sweden by a former IKEA designer, which explains the minimalist design of the Kalk&. This is a street-legal dirt bike which weighs only 174 pounds. That weight is perfect for the 10-kW motor, a relatively small motor for today's market. Also, the Kalk& only costs around $14,000.
Energica
When you think of Italian superbikes, we think of Ducati and Aprilia, two brands not only known for their performance, but for their style too. Well, it is time to add a third to that list: Energica. This Italian manufacturer set out to build electric racing bikes and brought all that knowledge and experience from racing to its street-legal bikes.
The Ego boasts a 13.4-kW motor, 148 pound-feet of torque and 145 horsepower. That is enough to compete with any superbike. What's more, it also has a claimed range of 100 miles. The Ego+ comes with a bigger battery pack, which does two things: it gives you more range, 153 miles in fact, and more torque, a whopping 153 pound-feet of torque to be precise.
You can pick up a base model Ego for $19,540, which is relatively cheap for an Italian superbike.
Conclusions
As you can see, the future of the electric motorbike is in good hands. What Harley did is, hopefully, push other big brands such as Honda and Yamaha to develop their own electric bikes. However, until that day happens, you can put your confidence in these brands mentioned, because they are delivering high-quality motorbikes today.
---