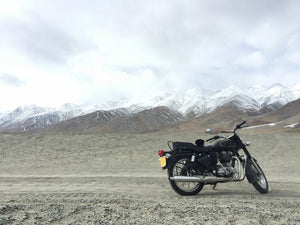 Top Bikes to Restore: From Vintage to Historic
We understand that not everyone is out to find a barn find to convert into a café racer, scrambler or anything of the sort. We know that there are people who look to restore vintage motorcycles to their old glory, and sometimes that takes more than just a fresh coat of professional motorcycle paint. Furthermore, we are approaching a time where many bikes on this list will be changing their status from 'vintage' to 'historical' or 'classic', which in turn, will change their price tag. 
This list takes a look at some of the cheaper options for motorcycle restorers, which are on the verge of becoming historical, therefore, potentially selling for more than what you bought it for. Especially if you do a good restoration job.
Bridgestone 350 GTR, 1970
You might know Bridgestone for making tyres, and you wouldn't be wrong, as they have been making them for almost 100 years. However, in 1963, the owner of Bridgestone decided he was tired of seeing Hondas ride on the rubber he made, so decided to build a bike around them. The company only manufactured bikes for a limited time, from 1963-1973, but their reliability, advanced engine, brakes and transmission are a true testament to the history of motorcycling, and an investment that can bring great financial profit.
Honda CL350, 1969
The Honda CL350, a scrambler version of the CB350 was easily identified by its high-mounted, tucked-tight, chrome-louvered exhaust pipe, which cost half as much as the bike did. While the bike was produced for over half a decade, from 1968 until 74, it is the 1969 version which was the crème de la crème. It had none of the defects of the original 68 model but kept the classic square tank Honda look of the 60's.
BMW R75/5, 1972
There are a variety of variations of the BMW R75/5, but the 1972 short-wheel base, toaster tank edition stands out the most. While the chrome panelling shows signs of an era long gone, even back when it first came out, today they are seen as a prime example of 1970's German engineering. And that is where the BMW made up for its lack of aesthetics, in its engineering. The famous parallel twin was capable of giving riders miles upon miles without a fault, while American tourers of the era sat in garages with their engines in pieces.
BSA Goldstar Clubman 500, 1955
It may seem expensive at first when you try and buy one of these single cylinder legendary machines built in a post-war era, but they are worth every penny. During their prime, they were considered one of the fastest, most reliable and most affordable bikes of the era, and it still shows. That meant anybody could dart down the road at 110mph (which is fast even for today's standards) in very little safety equipment without a problem. Every model was hand-built in the factory, and today, they are very sought after if properly restored.
Harley Davidson FLH, 1959
Restored classic Harley's will always be a sought-after machine, regardless of their year and model, because of the huge following the brand has. But the 1959 FLH is special. It is the first ever Duo Glide. The FL models first came into production in 1941, and some are still produced today, but none changed the motorcycling world like the FLH. 
Pre 1958 bikes had no rear suspension. The only thing saving you from any bump in the road was an ineffective spring under the seat.  They took front forks from earlier Hydra-Glide models and coupled them with a new rear swing-arm with coil over shocks. This meant riders could now embark on longer journeys with causing serious injuries to themselves due to the conditions of the road. This was also the introduction of the Panhead engine. This engine had more power, cooled a lot easier and quicker and weighed less than the Knucklehead engines.
Triumph Tiger Daytona 500, 1968
Triumph has an incredibly rich history, one not many motorcycle producers can compete with in fact, and even had Marlon Brando ride a 1950 T6 Thunderbird in The Wild One. For that reason alone, 1960's Triumphs are some of the coolest bikes available.
While the Bonneville has always received more press, many enthusiasts prefer the Tiger because of its single carburettor set up, contrary to the Bonneville's duo set up. This system lost some top end speed, but meant the bikes offered better mileage and were easier to maintain. These bikes are the epitome of all on two-wheels for many, so a well restored version can turn a profit.
Ducati 900SS, 1977
The Ducati 900SS could potentially be one of the most beautiful bikes ever made and set a tone for all future Ducati machines. Considered the first true Super Sport (hence the SS), the bike was light, agile, and beautiful. 
The design of this bike is almost flawless, as each element accentuates another perfectly. You could spend hours admiring this bike, and that is why collectors will pay good money for a well restored version of the Ducati classic. It is impossible to imagine if there will ever be a bike quite like it.
This list is not a full and complete list by far, but these are the bikes we consider will be the cheapest to find and which will turn over the best profit if restored correctly. There are many others and don't be put off if your current restoration project is not on the list, the fun is in the restoration process. Even though we all like turning a profit eventually. Or maybe adding a classic machine to our collection. Whatever your reason for embarking on a restoration project, we wish you the best of luck, and don't forget, we are the best spot for any professional motorcycle paint. 
If you have any questions or feel we left out an important bike, let us know and we will be happy to help!
---