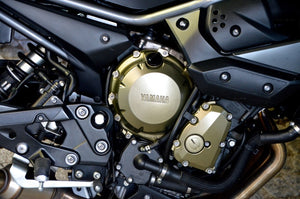 Top 10 Ways to Customize Your Bike (Without Spending a Fortune)
We all like to have our own personal style, and we all want our motorcycle to represent our unique style. But we don't all have the budget to fully customize our bike to look like our dream bike (not yet, anyway). Fear not, there are ways to add your own style to your bike without busting the bank.
There are some areas of customizing where it isn't worth cutting corners. Cheap engine parts or safety parts such as indicators or brake lights can sometimes lead to problems. However, there are some cheap modifications that you can do yourself with relatively cheap parts and your vintage Harley, Honda or Yamaha will look amazing.

Here are our top ten customization ideas for those on a budget

1. Custom Paint Job
Custom paint jobs are the best and easy way to mark your style on your bike. However, don't do this on your own without the proper skills, equipment and quality motorcycle paint. That is not to say that you can't try your hand at customizing a few pieces to make them stand out, but if you are looking for a complete job, seek help from a professional. This might set you back on your budget, but it is more than worth it.

2. Handlebars
Handlebars decide the type of ride you get from your motorbike; from monkey bars to clip-ons, they make the difference in your riding position. A custom set of handlebars are cheap and can totally change the look of your bike. Also, you can change them yourself in a matter of minutes!

3. Mirrors and levers
If you are changing your handlebars, it makes sense to also change the levers and the mirrors. You may also want to change the grips. Bar-end mirrors add great style to your look and are an essential part of staying safe, especially because they reduce blind spots. Changing the levers and grips can add color and eye-catching style without blowing your budget.

4. Seat
It may not seem like a style changer to change the seat or add a seat cover, but sometimes you have to prioritize comfort over style. A new seat can make your ride more enjoyable, whilst a cover will protect the original seat for the future.

5. Rim Tape
Rim tape not only helps you stand-out in poorly lit areas or while riding at night, it also helps you see better too. Available in a range of different colors, this modification not only adds style, but safety too.

6. LED lighting
LED lighting is another modification that is both stylish and safe. They are brighter than standard bulbs and also consume less power. Plus, you can get them in a variety of colors, which means you can change every light on your bike for more efficient, longer lasting LED.

7. Windscreen
A new windscreen can add a touch of personal style to your bike, as you can get them, not only in different shapes and size, but also colors. From fully tinted to half-tinted, they look amazing. They are also a great safety feature too. Don't be mistaken in thinking that your helmet serves as a windscreen, or that they make no difference because your head is above one. The clue is in the name, as the redirect the wind around the bike, protecting the rider. A great investing if you are customizing your bike on a budget.

8. Decals or Sticker
Decals may seem cheap, and may even make some of you smile, but they are a good way to customize your bike. We are not talking about bumper stickers either. There is a huge variety of decals out there from different brands, designs and shapes, which might make your choice difficult.
No matter what style you are after, you can easily find a decal that shows off your personality. However, bear in mind what you buy if you are thinking of reselling, as you don't want the decal to ruin the paint job.

9. Floorboard extensions/ foot-pegs
Harley riders know how uncomfortable a ride can be sometimes without the proper place to rest your feet. A proper floorboard will increase the comfort of your ride and the kits come with all you need to do the change at home.
If you are not a Harley rider and like the idea of adding some cheap styling to your bike, a great way to do this is by changing the foot-pegs, you can either go for a comfier size or a sportier look.

10. Air Filter
While not truly a modification that changes the look of your bike, it does change the performance. Plus, looking at some stunning new oiled pods under the seat is better than the old box that comes as standard. Increasing air flow into the engine will improve performance.
Note: Be careful when changing your air filter, as some carburetors may need new jets to deal with the new and improved intake. This is a job you can easily do yourself and is not expensive.
Pricier Modifications...
There are, of course, some modifications that can completely change the look and performance of your motorbike but require more of a budget. If you have the time and budget, go ahead and customize your bike with these extra touches.

Exhaust system: A new exhaust system changes the look, the sound and the performance of your bike. Note that this is the whole system and not just a slip-on can, as they can often be a waste of money, as they don't necessarily aid performance, they just change the appearance.

Engine remap: Whilst not the most expensive of procedures, it isn't one you can do at home, so it depends on how much your local garage charges for the process. This can improve performance and fuel consumption.

High-performance engine parts: You can install a racing clutch and gearbox, carburetors, leads and hoses, etc. there is nothing that cannot be changed on a motorbike that will improve performance and/or looks on your bike.

Note: Whenever you are making modifications to your motorbike, always make sure you stay safe, seek help if you don't have the relevant skills, and your bike is still road legal after the modifications.
As you can see, modding your vintage Honda, Harley, or Yamaha motorcycle doesn't have to be complicated or even expensive. Some vintage motorcycle paint, new seat, or different accessories can give new life to your vintage bike.
---