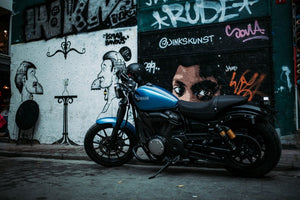 The Top 10 Yamaha Motorcycles In History
Yamaha is well-known for its success in the musical instrument industry, making pianos, keyboards, guitars and more. But, without a doubt, what the company is most celebrated for are its motorcycles. Some of our best selling paint for motorcycles is the Yamaha line of motorcycle paints.
Throughout history the Japanese manufacturer has produced some of the best bikes ever made - some of them defining an era. This page pays tribute to the great bikes Yamaha has produced over the years.
Yamaha TD2
The Yamaha YD2 was 247cc bike introduced in 1959, and was the first Japanese bike to imported into the USA. The stakes were high. The bike needed to cause an excellent first impression. Yamaha succeeded in doing that with the stocky looking bike with a fine paint job and a top speed of about 70 miles per hour. It was the first of Yamaha's bike to feature an electric start, and while not as powerful as other bikes from the manufacturer, it was loved due to its reliability.
Yamaha YDS3C Big Bear
Introduced in 1965, the Big Bear, was Yamaha's first successful attempt at designing a street scrambler. Modelled after the racing bikes of the era, the YDS3, the Big Bear was capable of reaching almost 90 miles per hour. Ironically, it was no bigger than other bikes of the era. It was heavier at about 350 pounds, but the sleek design did not give the impression of a huge bike.
Yamaha YZ250
The Yamaha YZ250 was introduced in 1974 and was no different to the Big Bear, reaching 90 miles per hour with a 21 hp engine. However, this was the first bike which saw a mono-shock rear suspension. A system that led them to be world champions off-road the following year and one that would make the YZ250 a staple motorbike for the company up to this very day.
Yamaha RD350D
The Yamaha RD350D brought with it substantial changes to what the public had previously seen from the manufacturer. They added reed valves and upgraded the engine, adding more power to the bike without concerns about blowout. With a top speed of over 100 miles per hour, the bike was an instant hit in 1973 when it was first introduced.
Equipped with and automatic oil injection system, the RD350D became a fan favorite, and is still held in high esteem today. Especially for those who like to convert them to café racers.
Yamaha XT500
The Yamaha XT500 took street scramblers to a different level and brought upon the mid-70s a new era in motorbike racing. With a eye-catching slim figure and a new 4-stroke engine, that is still loved to this day, the XT500 was capable of reaching about 100 miles per hour.
Yamaha YZF-R7 (OW-02)
Superbike fans of the late 90s to early 2000s will instantly recognize this bike. Introduced in 1999, it took the world by storm. Some said that it looked bulky for a high-end performance machine, but with 106 bhp and a max speed of about 100 miles per hour, plus its reliability, more than made up for it.
It was called as a top-spec racing bike for the general public in Super Streetbikes and to this day is still held in high esteem by racing fanatics.
Yamaha RX100
This is the smallest Yamaha to feature on this list, with only a 98cc engine. Although, it held its own and reached speeds of about 70 miles per hour. What makes this bike eligible for this list is not its power, top speed or weight, but its maneuverability and reliability, which made it a favorite amongst consumers worldwide.
It was powerful for what it was, it was cheap and a great little ride, and that is what earns it a spot on this list.
Yamaha V-Max
You don't have to be a die-hard Yamaha fan to recognize a V-Max if you saw it coming down the road. Its distinct design is only beaten by its impressive engine: a 1200cc with a top speed of about 140 miles per hour. Weighing in at right under 600 pounds, the bonuses don't hold the bike back from being a fast cruiser.
Yamaha YZF500 (OW48)
Some argue that Yamaha's modern-day racing history was born with the YZF500. The bike won several world championships, despite its bulky looks and many riders, including Kenny Roberts, have taken a tumble on the world's most famous racetracks.
The weight of the bike was relatively unchanged, but it could catapult the rider to speeds of 180 miles per hour. It held a liquid-cooled engine inside an aluminum frame which make it extremely fast through corners and accelerated unlike anything seen before.
Yamaha YZF1000 R1
Perhaps the most famous of Yamahas in today's market, the R1 was brought out to knock their closest competitor, the Honda Fireblade, off the top spot in 1998. The got a lot more than they expected. The 998cc engine was capable of 165 miles per hour and weighed only 418 pounds. But the bike went beyond that. It combined amazing looks, staggering performance and excellent reliability all into one machine.
Yamaha has seen success throughout the decades on a plethora of different motorcycles, but there is no doubt that the Yamaha R1 is one of the greatest bikes ever made.
Conclusion
Yamaha has a rich history, far too rich to include in this article. From true sport bikes, to scramblers and cruisers, there is a Yamaha for everyone. Make yours unique using top quality motorcycle paint for an outstanding paint job. Perfect for the café racer enthusiasts or the rider who wants their bike to stand out in a crowd.
The Japanese manufacturer has seen great success in the world of motorbike racing. Whether you are a fan of off-road, motor cross or MotoGP, Yamaha has titles under its name in every category. This not only makes it one of the most successful motorcycle manufacturers in history, it also makes it one of the best.
Bikes such as the YZ250, the V-Max and the R1 have remained staples of the company since their creation. Staying up to date with modern improvements as technology evolves, but staying true to Yamaha's ideals to constantly produce the best.
---