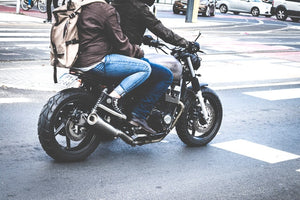 The Best Vintage Honda Motorcycles of All Time
Honda has a rich history for building motorcycles at the highest levels. Their bikes have won championships in all types of racing, from road racing to off-road, from track racing to rallies, Honda has won it all throughout their history.

Established in 1949, Honda began making motorcycles for the general public. Today Honda Powersport, the section of the company in charge of making everything except cars, is still making bikes for the people and for every level of competition.

This list will take a look at some of the best road legal motorbikes the factory has ever
produced.

Honda NR750
The Honda NR750 has almost three decades under its belt, but it was a bike that
revolutionised the industry. The bike had half as many cylinders as a V8 motorcycle should have, but with all the extra valves. These valves would prove to be a problem, but a worthwhile challenge the engineers managed to solve. Perhaps due to its revolutionary status, it comes at no surprise that they cost around $60,000 when first made, and only 300 were produced.

Honda CBR1100XX Super Blackbird
No list of great Honda motorcycles is complete without mentioning the Super Blackbird. And the reason for that is because it was designed to be better than the competition. In 1997 when it first came out, it was the fastest production bike on the market, taking the rider to whopping 178.5 mph. But the Super Blackbird was more than just a speed machine. It was also practical and comfortable. It felt just as at home on the track as it did for long cruises on the open road.

Honda CB750
We have already called this Honda bike on of "The Greatest Bikes in History", so it would be wrong not to include it in this list. Considered by many as the first ever superbike n 1969, the CB750 was Honda's top bike up until 1982. The 4-cylinder 750cc engine was designed so the average rider could get a true taste of speed, especially if you added the race-kit Honda offered. It was also one of the first bikes to include an electric starter.

Honda Rebel
The Honda Rebel has been praised for its lightweight and comfort, especially around urban areas. It is a modern production, available in both 300 and 500cc. It is considered by many to be the ideal starter bike, but also maintaining classic features that experienced riders can enjoy.

Honda CBR900RR
You might know this bike as the Fireblade and was produced from 1992 to 2003. What was striking about this bike was that it handled like 600cc bike but with the power and speed of a 1,000cc. It came as a surprise for many that Honda was releasing a bike such as this one. It was designed to be comfortable and practical, making it a road bike and not meant for the track. By putting a 900cc engine in the machine the company ensured it would not be used for racing.

Honda CRF450R
A relatively new bike, having been release in 2000, the CRF took direct inspiration from dirt bikes, and has continued to improve right up until the latest model being released this year. It is also considered the company's best-selling bike. They improvements that this machine has seen each new model have shocked everyone, as they are vast improvements on such a relatively small bike. Regardless of the model, the CRF is considered one of the best dirt bikes around.

Honda VFR750R RC30
30 years after its first production, this bike is now considered a classic. And yet, it has
preserved its popularity and price range throughout the years. Back in the day, this bike was seriously competitive and considered by many as worth every penny of its expensive price tag. It was not as powerful as other bikes on the market, producing 112bhp, but it only weighs 180kg dry. And that was something other bikes did not have the luxury of being able to say.

Honda Goldwing
The Goldwing has always been a subject of debate in the motorbike industry, as many
consider it more a car than an actual bike. However, the bike was made for extreme comfort in long cruising journeys. It was designed unlike any other Honda bike and that instantly caught the attention of anyone seeing one drive by. Furthermore, its 6-cylinder 1,800cc engine was a great feat of engineering.

Honda CBR600F Hurricane
A bike designed to be good at everything and anything, and also called a Hurricane? Where do I sign up? Produced between 1987 and 1990, the Hurricane had every aspect a rider could want. It had great mileage, it was reliable, it handled very well and was comfortable to ride, which was all perfect for road riding. But there is more, the bike also proved to be excellent on the track, winning multiple championships throughout the years.

Honda CRF1000L Africa Twin
Honda have the unparalleled ability to surpass their latest designs, designs the general public thought could not get any better. A true example of this is the Africa Twin. Powered by a liquid-cooled 998cc 4-stroke engine, and with specs other bikes only dream of, it comes as no surprise that it is one of the best machines the company has ever made. It comes with lengthy suspension, adjustable riding height, a choice of transmission, and retails around $13,599, so it has it all and is not expensive at all.


There are undoubtedly many more Honda motorcycles that deserve to have a spot on this list, as it one of the best brands the industry has ever seen. It's success throughout every possible riding style is evident by just looking at this list. Plus, they are all relatively easy to customise to your own style too, especially with some top professional motorcycle paint.

Maybe you have owned one of these bikes in your riding history, maybe you are looking to buy one now, regardless, we highly recommend Honda for any rider and hope you enjoyed our list.
---