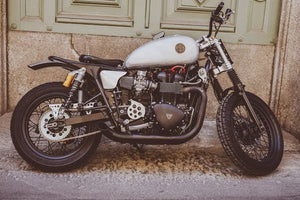 The Best Motorcycles to Customize
Here at VMR we love a good custom build and we understand the feeling and passion that goes into every individual build. It's about making a bike your own with your own style.
Whenever you start a new custom project, you need a good base bike. Most will buy a slightly battered used bike to give it a new breath of life with more than just a paintjob using high-quality professional motorcycle paint. However, that opens the door for the question: which is the best bike to use as a base?
The Classic Bikes
Taking a classic bike and giving it a new look and modernizing is something special. It takes hard work, skill and time to make a good custom machine, but the results are worth it. Here are the bikes we recommend for a custom build.
Honda CB (Any Displacement)
Honda CB motorcycles are perfect for any custom job you are doing, whether it is a scrambler, a café racer or a bobber, they are ideal.
They are simple and have a classic look and style that isn't found on any other machine. You can easily find one within your budget, as they are easy to find and affordable. Honda made and sold thousands of CB models, so you won't have any issues finding one in any displacement.
Yamaha XS (Any Displacement)
Like the Honda CB models, the Yamaha XS is another perfect bike for customization.
Again, Yamaha also sold thousand XS models in a variety of displacements, so any model from any year is a great base bike to start on. They are easy to find, affordable and have no limits when it comes to customizing. You won't be disappointed with the end results either.
Kawasaki KZ (Any Displacement)
Like the two mentioned before, there are tons of spare parts for the KZ line from Kawasaki, and they are great to customize. They also tend to be slightly cheaper than the other Big Four models, because the CB and XS quickly gained popularity in the custom bike market, which drove prices up. Meanwhile the KZ prices remained low for unknown reasons.
Modern Bikes
While the market may be saturated by older bikes with older tech, they are not the only option or way to have a great looking custom ride. Classics have their advantages, but so do modern bikes, one of them being engine related.
Many older bikes may already have or will soon develop engine issues if not addressed. If you don't have the time or skill to address them, then it is best to buy a newer bike. You will spend more time riding than fixing this way too. Especially when it comes to maintenance, older bikes need more time and effort to keep running.
Honda Rebel 300 and 500
The Honda Rebel makes for a great base bike for a project. Honda built the thing with customizing in mind. Most of the bike is exposed and ready to be customized. Both the 300cc and the 500cc models are perfect to become some really cool looking machines
You can go down the cruiser route, the café racer path, or down the scrambler dirt track. If you have the time and skill, this bike leans towards anything you want it to be. It is the ultimate blank canvas bike.
Royal Enfield Continental GT
Since its release, the Continental GT has taken over the custom bike scene, with some of the best shops completely changing the look of the bike. They already have that classical look that you get with a classic bike, but full of modern day tech and creature comforts.
The basic frame and powerplant make for an excellent scrambler or café racer, and as mentioned above, you already have that classic look. However, cutting and hacking away will probably void the warranty Royal Enfield provides all its new customers with.
Harley-Davidson Iron 883
Whether you are a die-hard Harley fan or not, this needs to be said: Any Hog is ideal for customizing. And here is another fact for you, not many people who own an Iron 883 have it completely the same as when it rolled out of the factory, most people change parts and customize it.
What most people dislike about the Iron 883 are the ergonomics, but worry not, there is a huge variety of aftermarket parts and Harley Davidson official parts that will change that. And everything about the bike if you want. You can not only improve the ergonomics, but the performance or aesthetics too. The guys in Milwaukee know their audience, they know the boys and girls who ride Harleys like to customize. That's why they offer tons of support and parts to make it possible. You can either do it yourself or at any Harley Davidson dealer.
Honda Grom
The Honda Grom has become the modern day go to for customizing into all kinds of crazy and fun bikes. You can turn it into practically anything you want. The same can be said for the Honda Monkey. Although, the Grom is much more fun and has more potential than the Monkey for wild customization.
There are also a ton of Grom aftermarket parts available. It's not uncommon to see Grom groups riding around, all with their own version of the little machine. They are fun to ride and to transform into anything you want. It is almost like Honda made this small displacement motorcycle for you to change it into anything you can imagine.
This is out list of the best base bikes for a custom job. Whether you just add minor changes or completely transform the ride, we hope you give it an excellent paintjob and make the motorcycle truly yours.
---