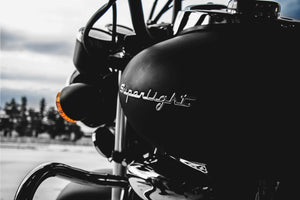 The Best Harley-Davidson Motorcycles Ever Made
Picking a small list of amazing bikes by this American powerhouse is not an easy task. Since the first blueprints were finalized by William S. Harley, who was only 21, in 1903, the company has become a symbol in the motorbike world. Owning a Harley Davidson is a lifestyle. Thousands of people, if not millions, worldwide love riding a hog, and the company knows this. They have been on top of their game for over a century creating stunning motorcycles that make heads turn before you see them with a characteristic exhaust roar. Then you get to see custom paint jobs down with professional motorcycle paint and you can easily fall in love.

With their air-cooled V-twins set at 45 degrees, Harley-Davidson promoted the heavyweight cruiser and pushed the boundaries with engines larger than 700cc. That is not to say that the company has not evolved with times to include lighter bikes designed for a faster ride.

Without further ado, here is our list of top Harley-Davidsons. It is important to say that these are in no particular order, they are all equally as awesome!


1915 Harley Davidson 11F
The 11F was revolutionary. It was the first Hog motorbike with a three-gear transmission. With huge intake valves and an automatic oiler, the 11F would produce 11hp, hence its name. It also came with a detachable night-time service light. While it seems outdated today (considering it is 100 years old) but it was the first stepping stone in creating a world-renowned motorcycle brand.


1936 Harley Davidson EL "Knucklehead"
If you have heard of classic hogs, you have heard of the Knucklehead. It was the first bike to change from flathead to overhead valves. But it gave riders something else. Something that would follow the brand for years to come: A nickname. Knucklehead was giving to the bike after the design of its, now iconic, valve cover. This was the last bike that William S. Harley and the Davidson brother's designed as team, and it was their most popular. It accounted for over half the company's sales in 1947.


1990 Harley Davidson Fat Boy
Another name any Harley enthusiast instantly recognizes is Fat Boy. This 1990's bike was the where the Softail styling really caught on. It was a revolution in styling for any motorbike. It had solid disk wheels both at the front and the rear, both a matching 16", and shotgun exhaust pipes to match. Powered by a monster 1340cc V-twin, the old school Fat Boys had plenty of go. Modern versions of the bike rely on the Milwaukee- Eight V-twin.


1983 Harley XR-1000
The XR-1000 might not have sold very well due to its hefty price tag, but its power and speed were undeniable. The 998cc air-cooled engine was able to take the rider up to speeds of 112 mph. Under Jay Springsteen and his modified version, known as Lucifer's Hammer, the bike won the Daytona.


2002 Harley Davidson VRSCA V-Rod
Modeled after the brand's drag racing past, the V-Rod brought drag racing to the motorcycle world. The bike produced 115 bhp at 8250 rpm. This power would make the rear wheel spin as if it were a sports bike. It was also able to take the rider to speeds of 140 mph, which for the early 2000's was very impressive indeed.


1958 Harley Davidson Duo Glide
The Duo Glide was the first Hog to incorporate a full and true rear suspension. It showed the world what a comfortable suspension looks like. The rear suspension could be adjusted with three different setting: two people, heavy or solo. The bike also included springs under the seat in a perfect blend of classic and new.


1965 Harley Davidson Electra-Glide
We almost chose the modern 2009 FLHT Electra Glide Standard, but with the 1965 Electra-Glide, there would be no 2009 version, so we went with the original.
It is the first FLH and technically a part of the Panhead family (the H standing for Highway). This bike was designed to hit the open road, especially considering there is an option for "King of the Highway" packaged that came with extra storage, luggage rack, removable windshield and loads of chrome. By 1971 the "batwing" fairing was offered and as remained mostly unchanged, except for modernized updates, ever since. This was the preferred motorbike by police all across the US.


2012 Harley Davidson FHLR Road King
The name of this hog leaves nothing to the imagination; it is the king of the road. Crowned with a Twin Cam 1690cc engine and a six-speed gearbox designed for cruising. Further goodies include ABS and automatic cruise control. It comes with different suspension options, removable windscreen and everything you might need for a seamless journey on the highway. All wrapped in the fairing we have become so accustomed to seeing from a Road King.


2009 Harley Davidson FXSTB Night Train
Famous for coming in various tones and shades of black, the Night Train is certainly an eye catcher. All black, with an extended front end, the Night Train lived up to its name. It also performed incredibly well. Powered by a Twin Cam 96b engine at a whopping 1584cc, it was not designed with practicality in mind, but it sure is a fun ride.



It is clear to see that Harley Davidson has a rich history of motorcycles. This list doesn't even include idols such as the 1957 XL Sportster or the cafe-racer style 1977 XLCR 1000, and yet it is still a full list.

What makes Hogs better than other cruisers is not only their history, performance and reliability, but how easy they are to customize. It is easy to express your creativity and your own personality on your bike with a wide selection of motorcycle paint. This, plus the thousands of possible accessories or interchangeable parts make Harleys awesome bikes to personalize. Bring your own style to your hog.

Don't be afraid to tell us what your favorite Harley Davidson is and why. Maybe it is already on this list or maybe we missed it out. Comment and let us know!
---