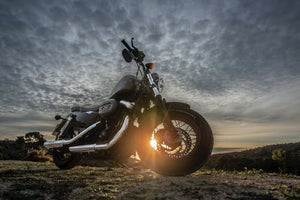 The Best Cruisers Money Can Buy In 2020
Summertime is here and you want to eat up the miles, then no bike is better suited than a cruiser. Here are our best options for you this summer of 2020.
The open road offers endless possibilities and opportunities. Man and machine as one on a road to nowhere, that is the cruising lifestyle. The movement started in the 1930's, when the youth of the time took to the road to explore America. That is why many argue that a cruiser experience is uniquely American, but it has traveled across borders.
The Japanese Big Four and many other leading manufactures have all got cruisers in their arsenal to meet the worldwide demand. The love for the communal aspect of the lifestyle has taken over the globe. They also offer a wide scope for customizing, especially with high-quality professional motorcycle paint from VMR.
There is a cruiser for every rider, and here is our list of the best ones for 2020.
Triumph Bonneville Speedmaster
Triumph are renowned for making faultless modern British classic bikes, and the Bonni Speedmaster is no exception. The liquid-cooled 1197cc is brand new and produces 76bhp and plenty of torque, perfect for cruising the open road.
Indian Scout
The Indian Scout has been a staple of American cruisers for decades now. This new 1200cc version, with a twin engine and 100bhp is proof of that, outshining most of its rivals.
Yamaha XVS950
Like most bikes made by the Japanese Big Four, the XVS950 feels reliable and keeps up with its rivals at a fraction of the price. The all new 90 degree V-twin is engineered with precision and the overall setup is extremely comfortable.
Kawasaki Vulcan 1700 Vaquero
Another offering from the Japanese Big Four, this time in the form of a 1700cc super-cruiser. The bike comes with a wide range of modern technology, most noteworthy is the LCD interface. It has a smooth engine built for cruising, but also capable of reaching 149mph, so it is no slouch.
BMW Nmoto Inc. Nostalgia
There are two types of cruisers: those made to eat up the miles and those made to make smiles everywhere they go. The BMW is one of the latter, turning the heads of onlookers, stopping traffic, and even causing some envy.
Inspired by the original BMW R7, the brand new motorcycle shares its underpinnings with the BMW R NineT, another retro designed bike from the German manufacturers.
Ducati Diavel 1260S
Ducati is known for making beautiful bikes with lots of power and excellent handling. This racing pedigree is clearly visible in the Diavel. Not only is it one of the most powerful bikes on this list, producing 157bhp and 95 Lb-ft of torque, it also handles like a dream and is capable of doing 43.5 mpg in combined fuel economy.
Yamaha V-Max
Everyone recognizes a V-Max when they see one. It even starred next to Nicolas Cage in the second Ghost Rider. Power by a 145bhp engine with the reliability you come to expect from a Japanese bike, it can reach 150mph. V-Max owners are proud of their ride, and the 70-degree V4 engine is one of the main reasons why.
Triumph Rocket 3 GT
What is there not to like about the Triumph Rocket 3 GT? Let me run through some specs with you: comes with a DOHC inline 3-cylinder with a displacement of 2458cc, a true masterpiece of engineering. It offers the rider 165bhp at the twist of the throttle. Plus, the tech on this bike is only matched by its looks!
Arch Motorcycle KRGT-1
If Keanu Reeves is putting his name on a bike, you best believe it is good. The 2020 model of the KRGT-1 comes with an aluminum subframe and swingarm as well as carbon fiber wheels, alongside Arch's downdraft induction V-twin engine, producing 121bhp.
Suzuki Boulevard M109R B.O.S.S.
Suzuki's flagship cruiser first appeared on the scene in 2006. It has a 1783cc 54-degree V-twin engine kicking out 128bhp and 180 Lb-ft of torque. The Boulevard has a dedicated fan following and is an excellent ride, despite being one of the larger displacement motorcycles on this list.
Indian Roadmaster
The 2020 Indian Roadster comes with so many modern features and comforts, you won't know where to start. You can enjoy heated rider and pillion seats, a 200-watt audio system with full Bluetooth connectivity, and so much more. With a 1811cc engine producing 100bhp you will feel comfortable tackling any journey on one of America's finest bikes.
Harley-Davidson Road King
The Road King is Harley Davidson's go to cruiser, popular all around the world. The 2020 model remains mostly unchanged from its predecessor but does include some cool features. The bike comes with ABS as standard and a beautiful Milwaukee 114 engine. It is also easy to maneuver and handle thanks to its front frock suspension.
Indian Chieftain
The 2020 Chieftain model offers new color schemes and additional chrome treatments that make the Indian stand out wherever it goes. But the updates go deeper than the aesthetics. You will find it has a brand new Thunderstruck 116 engine delivering 120 Lb-ft of torque.
Harley-Davidson Road Glide Special
Harley Davidson is renowned for its following, highlighted by the celebrity clientele that the Road Glide Special has achieved. Walking Dead star Jeffrey Dean owns one for example, and so do many more, so you would be part of an exclusive club by owning one yourself. Powered by an 9th generation Milwaukee Eight 1745cc V-Twin, the Road Glide Special is no slouch, and with a new shark nose fairing and LED headlamps, it looks the part too.
Moto Guzzi California Touring
There is very little doubt that the 2020 Moto Guzzi California Touring is one of the best-looking cruisers of today. The look is elegant, without being understated. Powered by Moto Guzzi's iconic 90-degree V-twin, placed so the heads show on either side of the bike, and delivering 96bhp with 89 Lb-ft of torque. The 1380cc engine may not be the fastest, but you will own a beautiful bike from a classic Italian manufacture
---