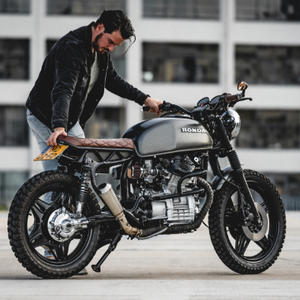 Ready to paint your Honda Motorcycle?
Painting an old Honda motorcycle can be a really rewarding project. It can be a big project for the everyday rider, but if you are serious about your bike, painting your motorcycle can take it to a whole new level and make it feel like you are riding a brand new bike for less than you might think. If you have been thinking about painting your Honda motorcycle, here are some things you can consider to help you make the right decision.
Painting a Honda Motorcycle
So if you have been thinking about painting your bike there are a few things that you need to make sure you take care of:
Place to paint your motorcycle - You need a place to paint your honda that will keep it in a controlled environment. Obviously, you don't want wind and dirt blowing on your bike while painting it, but you also need to consider things like the paint drying evenly. Set up a clean, open space in a shop or garage where you can paint - and set this up BEFORE you start your motorcycle paint project!

Good Paint - There are a ton of factors that influence the quality of a paint job, but one of the most critical parts is obviously the Motorcycle Paint. The paint that you choose is the paint you will have for many years, so be sure to do your due diligence. If you are fortunate enough to have one of our models, you can order your authentic motorcycle paint right here.

Follow instructions - This has to be the most important part of any honda motorcycle paint project. If you have any desire for the paint  you are using to work at all you have to pay attention to the process that you are supposed to use to apply it. Each individual component of the process is going to have a specific way to perform the step. Following those instructions for each step along the way ensures that the correct conditions are there for the next step to come out great. Take your time and do it right - it is always worth it
Putting it all together
Honda motorcycle paint projects don't have to be super complicated to come out looking fantastic. That is good news for you AND your wallet. We carry a huge variety of Honda paint colors that are formulated to match Honda models from a range of years. This is the way to go if you are only wanting to repaint an area to match. This will also always come out better than Honda motorcycle touch up paint because you are repainting the entire surface with a new paint. Combine that with a good cleaner/sealant for the rest of the bike and the whole thing can look new if your paint is in good enough shape on the rest of the old CT70.
You decide
Hopefully this post has helped you decide if painting your Honda Motorcycle is the right move for you. Let us know what you think! Tell us about your Honda Motorcycle Paint project - and bonus points if you used VMR Paints to get the best match for your bike.
If you want to learn more about the process of painting your motorcycle, check out our Motorcycle Paint: How to Guide to get an even more in-depth look at the whole process.
Thanks for reading!
---