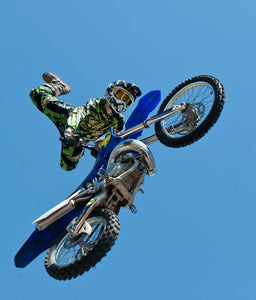 Motorcyclists: Why We Ride
We all ride for different reasons. Some out of necessity and some own a bike as weekend toy to ride country lanes in the sunshine on a Sunday morning. One thing is for sure, all motorbike riders love riding, that is why they do it.
Here is our list of why we ride, and we are sure many of these reasons, if not all of them, will coincide with your own.
Passion
Anything that gets the heart pounding and the blood flowing must be good, right? And motorcycles do just that. For many of us, riding isn't a hobby or just a mode of transport, it is a passion. Some riders have riding as their top need in life and don't mind spending all their spare time and money on their sled. They ride to achieve the impossible, to go to far away places and to explore the world, regardless of the terrain.
Freedom
Many, if not all, riders will tell you that riding a motorcycle gives a sense of freedom. You are in control of the moment. You have the freedom to be yourself without anyone around to stop you, to go wherever you want to go and to enjoy every second of the ride. As cliché as it may sound, riding a motorcycle cleanses the soul, as the wind rushes past you, the engine roars and vibrates beneath you. There is nothing more liberating than the feeling you get while riding.
Speed
The reality of motorcycles is that they are cheap thrills. They can get you to amazing speeds in the blink of an eye for a tenth of the price of a sports car that can do the same. And for many, that is reason enough to own a bike. Adrenaline is like a drug, and bikes are the best addiction to have.
Friendship
Whole friendships can be made and built around motorcycles. When everyone takes time out of their life to go for a ride with fellow riders is something magical. Riding strengthens friendship bonds too, plus it makes organizing a meet much easier because whether it be a breakfast ride, a long day ride or a night ride, they are always fun.
Brotherhood
Riders wave at other riders when they drive past, regardless of if they know them or not. The same can't be said for car drivers. Some of the kindest and most considerate people ride motorbikes. Furthermore, riders will always help other riders, regardless of what they ride, where they come from or where they are. There is always the bond of brotherhood with motorbike riders.
De-Stress
Riding brings a sense of calm to every rider. It is a way to gather your thoughts or to distance yourself from stressful situations. Riding also makes many riders feel refreshed and energized afterwards, with many calling their bike their therapist. It must be the time alone with just yourself in your helmet or the concentration a ride needs that keeps all of us riders sane. Whatever it is, it works!
Go Anywhere
As we mentioned before, the bike offers you the freedom to go anywhere. Riders will do deep research and planning when it comes to travelling. Not because they want to be sure of where they are going and what there itinerary will be once they arrive, but because they want to go to unexplored places, to find the best roads and will take any route they need to in order to find those perfect rides. The journey is the goal of the travel.
Improves Mental Health
As we have mentioned before, riding serves as a stress buster for many. That is because riding stimulates and activates the brain, and thus has a positive effect on the brain. It also helps keep a positive mental health, improve emotional health and to flush out all of your worries. Bikes serve as a great antidepressant, turning tragedies into triumphs.
Improves Physical Health
Riding a bike can be hard work, especially if you enjoy track riding and it doesn't stop here. Many riders forget any physical pain the moment they start riding and there are no age limits to riding. There are riders in their 80's who still ride every day, weather dependent. Isn't that an inspiration?
Easy
For many riders, a bike wasn't their first choice, but instead the bike chose them. The hustle of city life means many riders own a bike out of necessity, to be able to travel around the city easily and efficiently. It is also cheaper to own, maintain and keep a motorcycle. Plus, the eco-friendly people think motorcycles are friendlier to the environment than cars, and for motorbike riders, they are less effort than bicycles.
Fun
Let's face it, we all have fun riding our bikes. The smile on your face after you have found the perfect stretch of road and the conditions are perfect is irreplaceable. Bikes are fun to ride, pure and simple, and why do anything if it isn't going to bring you joy?
Love
One reason every rider can agree on is that we do it for love. And isn't it curious that we always gender our bikes? Men call their bike her and women, for the most part, him. Riding becomes more than just riding. It is a relationship between human and machine. It is true love. We take photos with our bike, spending time caring for our bike, enjoying our bike and getting to know our bike better. We love out bike, how it makes us feel both on and off it, we love the freedom and the brotherhood. We love it all.
We are sure one or more of these reasons apply to you too. Whatever your reason to ride and whatever you ride, make sure your machine is always looking great with professional motorcycle paint (yes, some self-promotion) and remember, there is always a brother who will help you along the way, no matter where you are going. 
---