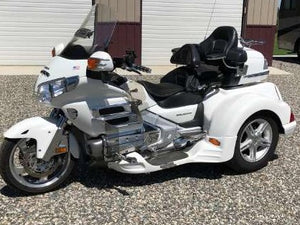 Why Buy a Second-Hand Motorcycle – A Guide
For many riders, a new bike is out of the question because of financial reason, for example. For many others, they are looking for a project bike to restore or convert into a unique customized ride. Those will need a high-quality professional motorcycle paint like what we stock here at VMR. There a different reasons as to why you might buy a second-hand bike, and all of them are good and valid reasons. You never need to feel like you are being cheap or weird for buying a used motorcycle as you can find some absolute deals on the second-hand market.
This article is a guide for those riders who are looking at buying second-hand. Why buy these types of bikes? Is it better to go private or through a dealership? And many other questions will be answered here, but make sure to also look at our checklist for buying a project bike.
The Benefits
It comes as no surprise that the main benefit to buying a used bike rather than a brand new one is the price. New bikes begin to lose money from the moment they leave the showroom because of depreciation, leaving a rather large gap in price between new and used rides.
For many insurance companies, a bike with a lower value costs less to insure and saves you money. Also, older models can be easier or cheaper to repair and maintain, especially if it is a popular or extremely mass produced model where parts are readily available on the market or from your local scrapyard (don't underestimate the treasure you can find in one of those).
However, there is a downside to buying a second-hand model, especially if you buy from a private seller rather than a dealer, but more on that later on in the article. Older models don't have the newest technology, whether that be rider aids or for safety, for example, many older bikes don't have such things as traction control, anti-wheelie technology or ABS. The other downside is warranty, as these machines will either come without one or have a shorter warranty time than new models bought straight from the showroom with zero miles on the clock.
If these downsides put you off, then a new bike is the choice for you. However, if you are still on the fence, continue reading.
Research
The first step, even before looking at what is available on the market, is to decide what bike you want, what your budget it and how far are you willing to trail off these decisions, or if those things even go hand in hand. You might want a superbike, but your budget doesn't allow for it or you may want something unique and exceptional without any limitations on budget. There might be instances where you have both a desired style and a budget but you see something on the market and are willing to break the budget and forgo the style you want because you fall in love with it.
Once you have set those parameters, do your research. See what bikes are available in your budget range and see if any are exactly what you want or close enough, select a few listings and compare them, maybe go to check them out if they are local. Do as much as you can to find out as much as you can on any given listing, and don't break your budget unless the bike is a stunning example of what you want and comes with excellent aftermarket mods installed by someone capable.
Private or Dealer?
As you scroll through listings online you will come across the next common question: is it better to buy from a dealer or from a private seller?
Buying from a dealer does have its advantages. Many offer warranties on their bikes, although often for less time than if you bought new and there is some level of legal protection thanks to trading laws. Some dealers will also give you the option to part-exchange your old ride as part of the deposit on a new one and might offer finance options to make buying a bike easier and more affordable.
The downside to buying from dealers is that the machines are often more expensive and dealership costs and services come into play.
Buying from a private seller, you cut out the dealer and their costs, meaning you can get a cheaper price and can also haggle a little. The downside is that you get none of the warranty or legal protection. Furthermore, dealers check and service second-hand bikes before they sell them, something you will have to do and pay for yourself when buying from a private seller.
Buying on eBay
eBay is a great place to look for second-hand bikes, as it allows you to narrow down your searches based on your own personal criteria using the site's filters.
You can filter based on price, make, engine size, private, dealer or auction, and if you are not too keen on travelling you can set the site to only find listings in your area or relatively close.
Once you have narrowed the listings or found a select few bikes you are interested in, check out the feedback score for the sellers and read the reviews left by other eBay users. Be sensible when shopping. Be weary of those trying to get rid of a bike quickly without any explanation or those who use stock photos.
Think Global – Buy Local
Sites such as eBay make the world feel smaller. You can find bikes on the site from the other side of the country and forget how far away that is. That increases the risks of getting the wrong bike.
Travelling hundreds of miles to see a bike naturally increases the chances of you buying the bike there and then. Why travel so far and go home empty handed? If the seller knows how far you have traveled, they hold an advantage in the negotiations. If you don't buy the bike, they still have a list of potential buyers, you however, have 'wasted' fuel and your time for nothing.
Buying a bike locally means you already have knowledge of the area and don't have to spend too much money on getting there. It also makes haggling easier, as you lose nothing but some of your time if you walk away empty handed.
---