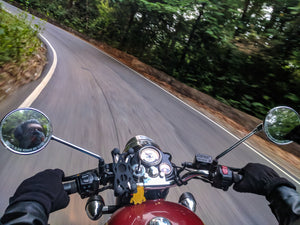 Best Bikes to Convert into a Café Racer
Taking on a cafe racer conversion is a large project - way more complicated than just painting your motorcycle. It is time consuming, and can be frustrating and difficult. However, the reward is totally worth it when done correctly. The best way to ensure it is all going to work as smoothly as possible is having the right bike from the beginning of the project.

Thanks to the modern, globally connected times that we live in, finding a powerful engine at a reasonable price is not as difficult as it used to be - even if you live in a small town in the middle of nowhere. You don't have to create a Frankenstein bike of pieces and parts to make a lightweight, powerful and reliable motorcycle that handles well.
This list has some of the best bikes to start you off right with your cafe racer project.



What is a cafe racer?


As I am sure you might already know, a cafe racer is in essence a stripped-down bike with all the unnecessary parts removed to reduce weight and go fast as hell. The most famous characteristics are flat or upside-down handlebars, a single seat, and the foot pegs moved back to a race-style position.

Combine this with a great paint job, which is easily available, thanks to the variety of motorcycle restoration paints we painstakingly mix to match you classic Honda, Harley and Yamaha models (shameless self-promotion, but hey that's why we blog ;) ), and you will have a great looking cafe racer.


The List

Finding the right bike for your project can be tricky, especially if this is your first bike, but we are here to help with our list of great motorcycles to convert into cafe racers. These can all be bought second-hand and can be reasonably priced if you look around on some sites like craigslist or other bike buy/sell groups on Facebook. If money is no issue, then you can look at Triumphs, BMWs and Ducatis - but these come with a higher price tag, both as a base bike to start from and for aftermarket parts.


Honda CB
Any bike from the Honda CB series has excellent potential to be a great cafe racer. The main reason is because of how many bikes Honda built in a three-decade span (1970's all the way through the 1990's). Because of the high number of bikes produced, and how easy they are to work on, they are very popular bikes to convert. What does this mean for a beginner? Plenty of parts and guides on how to make your own cafe racer out of a Honda CB.
While the choice on which bike to choose from the series is incredible, the two best options are a CB550 and CB750 - which was hailed as the first ever superbike.


Yamaha XS
The Yamaha XS series may not have the variety of the Honda CB's, only producing four bikes (XS400, XS650, XS750/850 which were both triples and the XS1100, only for the bravest). But this doesn't mean that Yamaha made limited numbers. Quite the contrary, the Japanese motorcycle brand sold thousands of these machines during the late 60's to mid-80's. The best of all being the XS650, which had a standard version, a "naked" version and a Special version.
Just like the Honda CB's, the XS650 has tons of aftermarket parts available. The other bikes in the series do have aftermarket parts, but they can be harder to find and more expensive.


Yamaha Virago
The Yamaha Virago might be an eye-sore in its factory clothing, but once stripped of all the non-essentials, they make awesome cafe racers. It was Yamaha's first V-twin and has been produced for decades. The best versions to convert are the XV535, XV750 and XV920R.
While they were produced for many years in high numbers, finding aftermarket parts can be tricky. Finding the right bike can also be a challenge. But once you have found the right one, preferably pre-1990, there is little maintenance once converted.


Honda CX500
This bike has been called "the poor man's Moto Guzzi" due to the engine configuration. But it was also very well built with liquid cooling and dual carburettors. It also included an electric starter, but isolated, so the rider could bump start the bike in case of electrical failure.
The CX500 was not as popular as the CB series or the Yamaha XS650, but that doesn't mean there isn't a market for parts. It is harder to work on due to its front end not being ideal for a cafe racer look, but there are plenty of internet forums to help you out with any problems.


Kawasaki W650 and W800
The first W-series was built by Kawasaki in 1966. But these are two modern bikes with retro looks. The W650 was made from 1999 to 2007 and has a retro-standard look. While the W800 was built in 2011, making the most of the recent popularity of retro-style motorbikes.
It is this retro styling, which you can leave unaltered if you prefer, that makes the Kawasaki such a great one to convert into a cafe racer. Because it is a modern bike, it is safer and more reliable after changing parts, there are plenty of parts available and plenty of help online.


BMW R-Series
These bikes are popular within the cafe racer conversion community. Why? Because BMW R-series are one of the most popular bikes around the world, they have a solid track record for reliability, and thanks to the shaft drive, requires less maintenance. With engine sizes from 500cc to 1000cc, these are a cafe racer conversion bike of choice. There is also a great deal of aftermarket parts and online help.



Other Alternatives
This is not a complete list by any means - it is a short sample of reasonably priced, easily available and easily converted bikes that also have a good amount of aftermarket parts available. You can also look at older Triumphs, BMW or even a Ducati if you really just have too much money in your bank account. Other brands include Norton, BSA and Suzuki. But because of their rarity and price, there are less of these bikes around,  and consequently less parts to help with your conversion.

There is nothing stopping you from converting any motorcycle into a cafe racer. If you have the time, the skills or at least the patience to learn the skills, you can even convert modern day superbikes.

No matter what you decide to convert, make sure to give your bike a unique paint job using the best motorcycle paint.
---