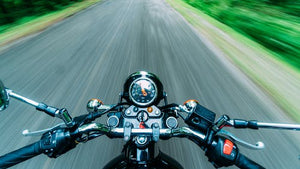 Best Adventure Touring Motorcycles
Somewhere between the world of sport bikes and the trails of dirt bikes lies a realm where touring motorcycles make a living.
ADVs or Adventure Touring motorcycles are built with stronger frames, large tanks, purpose-balanced tires, and a range of utilities and rider aids. These bikes can handle the unpaved track as easily as the paved road. They can also eat up the miles of a long-distance tour without needing to refuel, making them a good choice for a long haul. In short, adventure touring machines are steady, sporty, sturdy and packed with features that make them ready to rock and roll to wherever you want to go, well, at least the good ones are.
No two ADVs are the same, as we are sure you already knew. To make matters slightly more complicated, ADV is a term which usually refers to machines that are better suited to off-road than tarmac, although just as capable on either surface. Experts are still debating about what actually qualifies as an adventure tourer in the first place, as manufacturers are quite content to label a motorcycle as an ADV when the term doesn't apply.
Nevertheless, all the bikes on our list made it because they are worthy of the term ADV. And because they can all be personalized with high-quality VMR professional motorcycle paint. Grab your lid and enjoy this ride with us.
1. Yamaha XT1200Z Super Tenere
Weight: 261 kg (wet)
Fuel capacity: 23 L
Torque: 114.1 Nm @ 6,000 rpm
Power: 80.9 kW @ 7,250 rpm
Yamaha may not be the first name that comes to mind when talking about adventurer tourers, however, the Super Tenere is one of the best in the business. A seamless six-speed transmission, advanced fuel injection system, top quality traction control and a compact two-cylinder engine with eight valves. This Yamaha is top of its class, both on and off-road. It is also a rather comfortable ride.
2. KTM 1290 Super Adventure R
Weight: 217 kg (dry)
Fuel capacity: 23 L
Torque: 140 Nm @ 6,750 rpm
Power: 118 kW @ 8,750 rpm
The KTM 1290 Super Adventure R is one of the best bikes money can buy, let alone one of the best ADVs. It is an off-road machine which is also highly capable of tackling tarmac. The 1301cc engine pumps out 148hp, which is more than enough power for any surface. Additionally, it has high-quality suspension and adjustable fuel mapping for better efficiency or power delivery.
3. Triumph Tiger 800 XCx
Weight: 205 kg (dry)
Fuel capacity: 19 L
Torque: 79 Nm @ 7,850 rpm
Power: 69.3 kW @ 9,300 rpm
Triumph is famous for its triple-cylinder engine, and the Tiger 800XC comes with the same heart. It is a ready for adventure machine, capable of handling anything you throw at it. The three cylinders deliver 95hp and 58 ft-lbs of torque. It also comes with ABS, traction control, and an 'Off-Road Pro' riding mode for riding off the beaten path.
4. Honda Africa Twin
Weight: 208 kg (dry)
Fuel capacity: 18.8 L
Torque: 98 Nm @ 6,000 rpm
Power: 70 kW @ 7,500 rpm
The Honda Africa Twin is synonymous with adventure riding, and it doesn't get much better than this. One look and you will be in love. Behind the looks there is plenty of power and impeccable performance too. You can expect to feel 94 eager ponies under the seat, crammed into the parallel twin engine. Combined with excellent ground clearance and great suspension and you have an ADV like no other. Furthermore, Honda is renowned for being reliable and always delivering a high-quality product.
5. BMW R1200 GS Adventure
Weight: 263 kg (wet)
Fuel capacity: 33 L
Torque: 125 Nm @ 6,500 rpm
Power: 125 hp @ 7,750 rpm
The BMW R1200 GS Adventure is probably the most famous bike on our list. And true to its name, it packs 125hp and a 400-mile range. You can also enjoy adjustable ABS, excellent traction control, and a beautiful looking machine. One of the most dynamic, powerful and functional motorcycles in the class.
6. Suzuki V-Strom 1000 ABS
Weight: 208 kg (dry)
Fuel capacity: 20 L
Torque: 101 Nm @ 4,000 rpm
Power: 74.0 kW @ 8,000 rpm
If you are looking for value for money, the Suzuki V-Strom is everything you want and a bit more. Despite its very affordable price tag, don't be fooled, you will still find prime tech, including ABS and two-stage traction control. You will also enjoy a four-stroke, liquid-cooled 1037cc V-twin engine, alongside a new five-axis Inertial Measurement Unit, which combines with the Motion Track Anti-Lock and Combined Brake System. This bike will go anywhere and still perform, and it won't burn a hole in your pocket either.
7. Ducati Multistrada 1200 Enduro
Weight: 225 kg (dry)
Fuel capacity: 30 L
Torque: 136 Nm @ 7,500 rpm
Power: 117.7 kW @ 9,500 rpm
The Ducati Multistrada 1200 Enduro is a wild dream for any enthusiast, and a delicacy of the ADV world. It has a characteristic Ducati 1198cc V-Twin engine, which pumps an outstanding 152hp, and that is only one of its best-selling points. It also comes with top comfort features, like ABS, four different ride modes, dual spark ignition, and a semi-active suspension. All put together you have a beautiful, compact bike full of excellent performance.
8. Kawasaki Versys
Weight: 216 kg
Fuel capacity: 21 L
Torque: 64 Nm @ 7000 rpm
Power: 68 bhp @ 8500 rpm
The Kawasaki Versys is the ideal companion on long-distance road tours. It is a slim machine with a comfortable riding position and is versatile. Boasting a 649cc parallel-twin engine, an adjustable windscreen, and great suspension. You won't be disappointed if you stay on the tarmac, but your mileage may vary off-road. Some experts and enthusiasts call the Versys an 'adventure-themed' motorbike, instead of claiming the right be called a legitimate adventure tourer. Nonetheless, there are many worse ways to commute and enjoy a road trip, especially for the same affordable price.
---