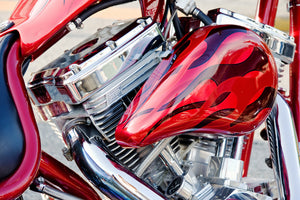 8 Ideas For Your Custom Motorcycle Paint Job
In the United States, more than ten million households have a motorcycle. Motorcycles are fun to ride, offer excellent fuel efficiency, and just plain look good. Their low cost of ownership and appealing ride experience indicates that ownership numbers will continue to increase.
Another characteristic of motorcycle owners is the desire to customize their bikes. Everything from custom motorcycle paint to all-out hybrid builds such as Daryl's Walking Dead bike--people like to make their bikes their own. 
Bike owners may want to choose a different color for their vintage machine or express their hobbies, beliefs, favorite TV shows, or go completely artistic. Here are some ideas for inspiration if you want to make your bike stand out from the crowd.
The Classic Flame
Some motorcycle owners enjoy the speed of their bikes and show it by painting flames on their tanks and fenders. Over the years, flame designers have become incredibly creative with designs, colors, and uses.
No longer are flames only black, red, and orange. Combinations of purple and green grace tanks and fenders, while other designs are classic silver and black. Nearly all start with flame masking decals that offer accuracy and paint options.
Graffiti
Once an eyesore, graffiti is now among the hottest mediums for artistic expression. Giant walls of art and spray-painted chaos work together to become iconic symbols of city life and personality. Some bike owners have taken this art to the next level and crafted custom graffiti designs on their bike parts.
There is no limit to graffiti design, and it packs an individualistic punch on behalf of the rider. Anything from icons to words can adorn a motorcycle, and graffiti on the accessories takes the design to the next level.
Movie Characters and Superheroes
Many people become fans of movie characters or villains, and motorcycle owners are no different. Characters from Pennywise to The Joker adorn gas tanks across the country, airbrushed with deft lines and custom backgrounds. Gollum appears among skulls, and Marilyn Monroe gazes seductively up at the driver.
The Marvel Universe has come to life on the big screen, and many creative paint jobs include superhero characters like Spider-Man and The Incredible Hulk. You might ask a professional to help you get these designs right if you choose to decorate your bike in this manner, or at least make sure you have good instructions.
Star Wars-themed designs are also popular, with some owners going beyond paint jobs to mimic the simple black and white of the Storm Troopers.
Classic Patterns
Patterns are a popular way bike owners customize their machines. Many custom painted motorcycles are painted with snakeskin, spider webs, or zebra patterns. Colorful fish scales add interest, and some owners like to throwback to the '60s with classic paisley.
For an even more classic look, some owners may choose a blue and white Delftware pattern or white lace on a solid color. Geometric patterns and simple pinstripes are also popular.
Paintings
Although many of these ideas require talent and a gentle touch with the paintbrush, none are so intricate as landscapes, beaches, mountains, and portraits.
Military veterans can go for a commemorative design or a portrait of their platoon made from a photo. Sunsets are popular, as are desert themes with warm colors and saguaro cactuses. Oceans with palm trees remind the rider where they'd like to be.
Patterns from Nature
Some people enjoy simple looks, like an overall pebble design, a feather pattern, tree bark, or leaves. Some bike owners appreciate flowers and birds. Skyscapes add a natural and soothing feel to a bike, while a subtle night sky looks dramatic and deep.
Band Logos
Avid fans of music often sport their favorite band's logo on their gas tank. Some band emblems are designed beautifully and add an artistic look to the bike. These also speak to the personality of the owner in a big way--music is personal.
Custom Motorcycle Paint Finishes
Another option for bike paint is to choose a single color and use a special finish. Paint finishes add a custom look without loud graphics and designs. Some single-color paint finishes are as follows:
Chameleon Paint
This paint has color-shift pearls that allow for a hue change depending on the viewing angle.
Heat-Changing Pigment
Just what it says--this pain changes color with temperature. 
Ghost Pearl
This paint adds a highlight to your paint job, so it always looks shiny.
Metallic Paint
Metallics add shine and dimension to any paint color, and always look saturated and classy.
Fluorescent Colors
Always a standout, fluorescent colors have a glow of their own. They tend to be UV-sensitive, so they will need extra coating and other protection to ensure that they last.
Holographic or Prism Paint
This paint reflects a multitude of colors while remaining true to its base color. It is very dramatic in dark colors.
Ghost Pearls or Ice Pearls
This mica-based paint has large particles that add iridescence while allowing the base color to show through. They also add drama when used over black. 
Aluminum Pigment
This paint makes surfaces look like brushed aluminum. It comes in many colors, including gold, silver, and bronze. It is a distinctive and classic look for paint.
Make It Your Own
Although motorcycle owners tend to concentrate on the bike's gas tank for customization, many parts of the bike can be painted to either match or complement the tank design. Custom spoilers, fenders, and seats can all add to a custom look that makes a bike unique.
Regardless of customization, using quality custom motorcycle paint will assure great and long-lasting results. For restoration paint matching projects or a whole bike revamp, contact us for knowledgeable help and reliable, quality products. We'll supply the means for you to make your bike your own.
---