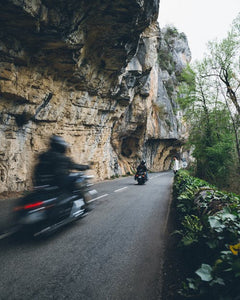 5 of the Best Reasons to Experience Motorcycle Camping
Adventure Motorcycles are seeing a rise in popularity, and with that popularity comes a different and new way of seeing the world.
As aficionados of motorcycle riding, we all understand how liberating and exciting riding is. ADV bikes are becoming more popular, and sis motorcycle camping. We should all strive to have more life in our days, not only having more days in our life, and that is a likely reason to ride a motorcycle. Motorcycle adventure touring and camping has one mission: to be a self-sufficient, self-contained unit. When riding anywhere on a bike, minimalization is key.
Here are our five best reasons to go adventure camping:
1. The Sense of Adventure
Going on adventures help us grow as people. Learning how to embrace that sense of adventure and enjoy it can be the secret to a fuller and better life and personal happiness. Riding a motorcycle already adds a new level of adventure when compared to travelling in a car or a coach or a train. But then there's ADV bikes.
Adventure bikes are designed with a clear mission statement: to go anywhere on two wheels. That isn't to say you can't go motorcycle camping on any other bike, I spent two weeks camping on a naked 650cc. Motorcycle riding is about being exposed to the elements, hearing the sound of your bike entangled with the sound of nature, smelling everything, immersing yourself into your surroundings. Camping simply allows you to extend that feeling for days, weeks or months.
Camping is an adventure no matter where you go. It creates the feeling of being away from home, in a place where the unexpected happens, and this is all part of the unknown. That sense of adventure, the thrill of not knowing, isn't something you get sleeping in a hotel, on a bed, with a bathroom just a few steps away. The adventure is lost because it is too much like being at home.
2. Embracing Your Wild Side
Embracing your wild side here is not about spray painting flames on your ride with high-quality motorcycle paint, but about becoming one with nature. Some say there is nothing more peaceful than waking up to the sound of nature at first light, only to gaze out of your tent and see your bike, waiting for another day of riding.
While your camping you will see a lot more of the day. Being woken up by first light, organizing yourself for a day of riding and making your you get to your destination with enough time to pitch up and chill for the evening means you need to make the most of daylight.
Motorcycle travelling is a sensory experience. You feel, see, smell and hear everything around you, camping is just an extension of those feelings.
3. Being Self-Sufficient
The biggest challenge when motorcycle camping is to be self-sufficient. You need to be able to camp and stay alive for your chosen timeframe with only what you can carry on your bike.
Any good adventure starts at home with planning and packing. You need to determine what stays and what comes with you, and that is no easy task. Because then you encounter the limited space problem. Everything needs to be evenly packed on your bike to distribute weight and you can't be overpacked either. You have no option but to travel light, especially if you're travelling on a bike with even more limited space than most ADVs, like your dear author did.
You need to be able to take care of yourself in the middle of nowhere and depend solely on yourself, or the group you are riding with (we don't recommend travelling to the middle of nowhere on your own). You might need to overcome injuries, breakdowns, and other unforeseen issues before you can return to civilization.
4. Making Friends
Bruce Brown's classic 1970's film On Any Sunday has a quote that paints a perfect picture about riding with friends:
"There's really something about riding with your friends…a feeling of freedom, a feeling of joy that really can't be put into words. Can only be fully shared by someone who's done it"
This amazing feeling is only extended when you are adventure motorcycle camping. You feel it every day for the duration of your trip. I am yet to meet a fellow rider who hasn't made friends through motorcycling.
They are the friends you may not see very often, but when you do see each other is like if no time had passed. A shared passion is a bond for life.
5. Creating Memories
Riding bikes is a great way to create lifelong memories, add camping to that mix and you have treasure memories you can look back on over the years. There will always be unexpected events that create both good and bad memories, and that make each trip unique.
I have some unique memories of my trip. From stumbling across abandoned buildings to getting soaked through in a sudden downpour and having to get changed on the side of the road.
My favorite memory is while riding around a small Italian village searching for somewhere to eat, we managed to find a restaurant that would open their doors just for us. It was the best meal we had all trip and the best value for money meal I have ever had.
Those small memories, the simple things, are what I believe make motorcycle camping special.
Final Thoughts
Don't wait to experience life. There will never be a "perfect time", so just go out and ride to where you want to ride, do what you want to do, and enjoy yourself along the way.
Motorcycle camping trips don't have to be expensive. Plan small trips away, but close to home, like a weekend getaway, and slowly build up to that big adventure you want. We all have to walk before we can run.
Don't hesitate to get in the saddle and let the adventure take you. It could be the best experience of your life.
---